These photos are from the Boon Khao Pradap Din (บุญข้าวประดับดิน) celebration in the little village of Ban Kham Pia, Khon Kaen province, on September 8 and 9, 2018. Locals here call it Boon Khao Noi ("Little Food") and the similar Boon Khao Sak ceremony that follows two weeks later is called Boon Khao Yai ("A Lot of Food) since more food is given at the latter. Thanks to Mae Teem and her family for hosting us for the night. For more information, there's an explanation of Boon Khao Pradap Din and an overview of heet sip-song, the twelve Isan merit-making traditions.
As it is with many Isan celebrations, food is at the forefront of Boon Khao Pradap Din and each family spends many hours cooking. This is a ceremony to honor the ancestors who, it's believed, come to roam the earth at this particular time, so people prepare food for the spirits to eat on arrival. Nine packages, made of folded banana leaves, stuffed with various foods are given by each family. The number nine is not, as you'd suspect, done for good luck – it's because Boon Khao Pradap Din is the ninth monthly tradition of the year.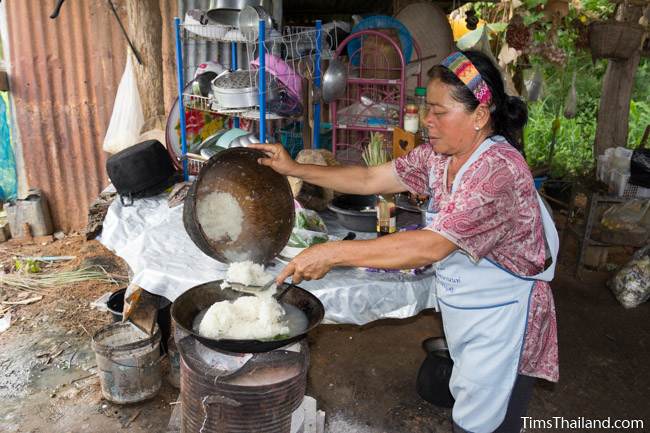 Though the packages are a bit fatter nowadays, overall they haven't changed very much from two generations ago. Mae Teem's packages contain sticky rice, salt, a chili, sun-dried fish, fried pork, steamed squash, steamed yam, boiled peanuts, puffed rice snacks, khao tom pat (a snack made of sticky rice steamed with coconut milk and banana), corn on the cob, Thai eggplant, long beans, custard apple, guava, banana, lime, pomelo, and mango. A second package, pinned to the first, holds betel and cigarettes. And these featured foods are more or less the same across Isan, though most people will also include bplaa-raa (fermented fish sauce).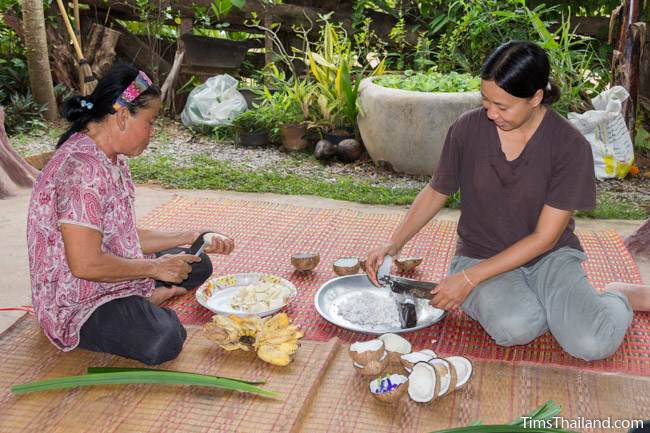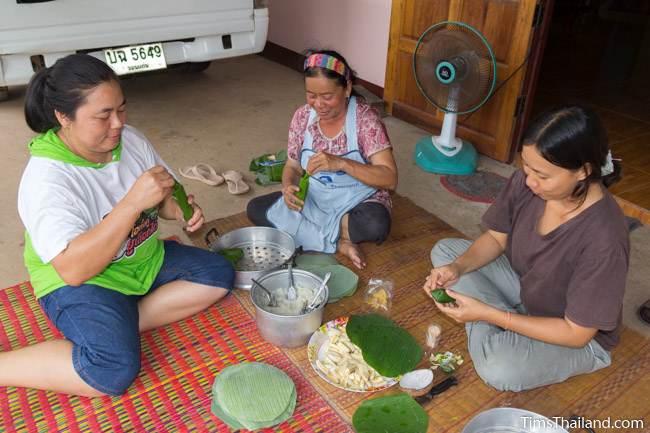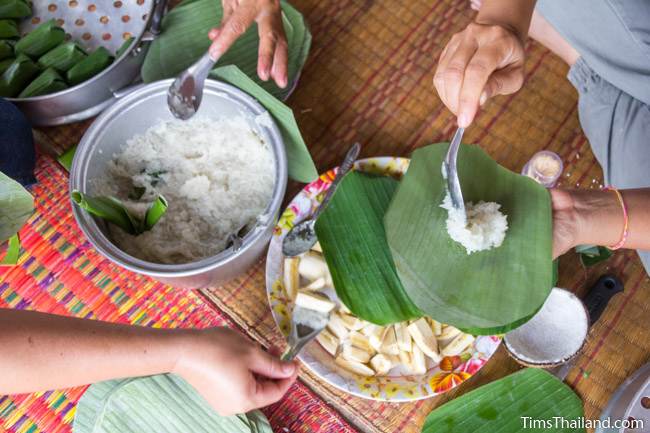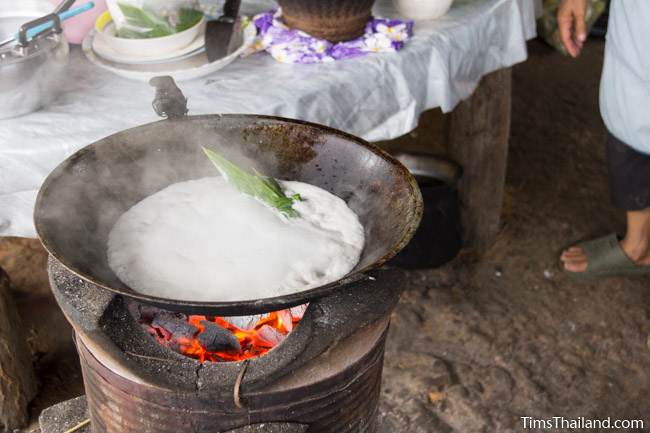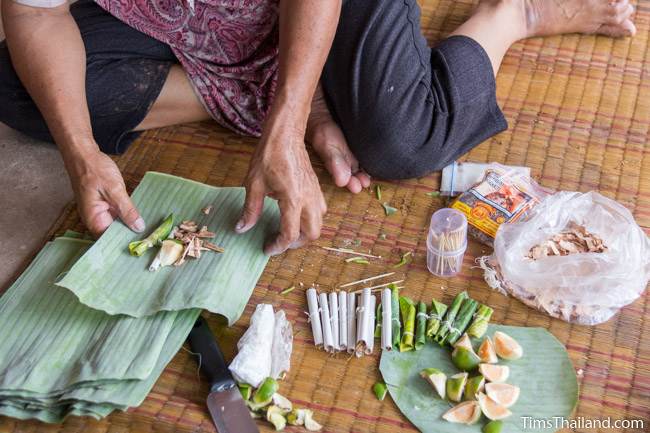 In the early evening, after most people have finished preparing their food packages, the monks lead a standard Thai Buddhist suat-mon chanting and prayer session at the temple, although not many people attend since it will be done again in the morning.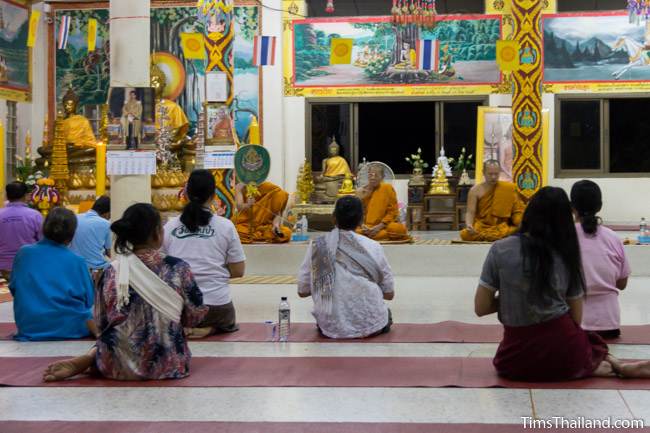 Pradap Din
In Ban Kham Pia, the food is given to the spirits during the midnight hour. Someone from every family (adults only; kids get to stay home and sleep) comes down to the temple to place their food packages on and in front of the temple boundary wall. Although people call out to their deceased family members – mae maa der, paw maa der, buu-yaa…, lung… (Mom, it's time to come; Dad, come now; Grandpa and Grandma…, Uncle…) – the food they bring is not specifically for them. The village works together to feed all the spirits who come; even wandering ghosts with no relatives living here.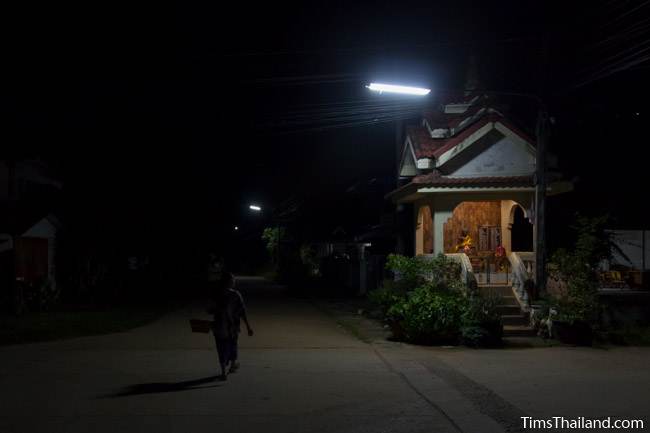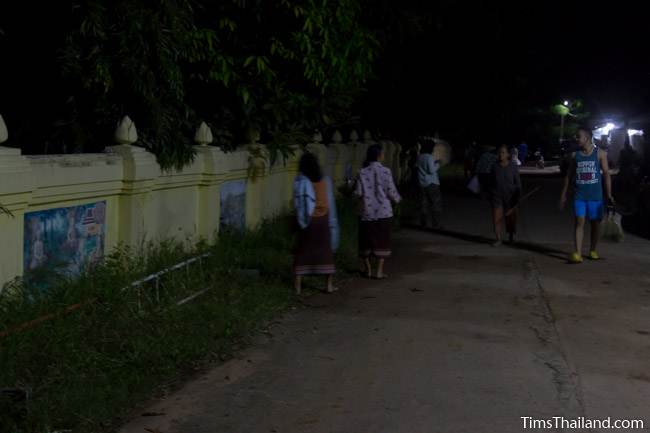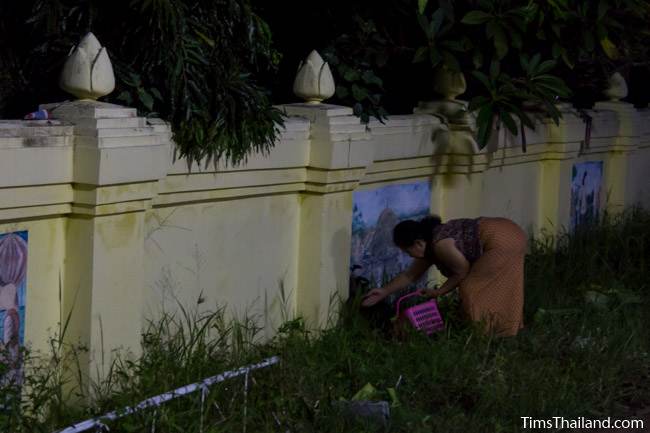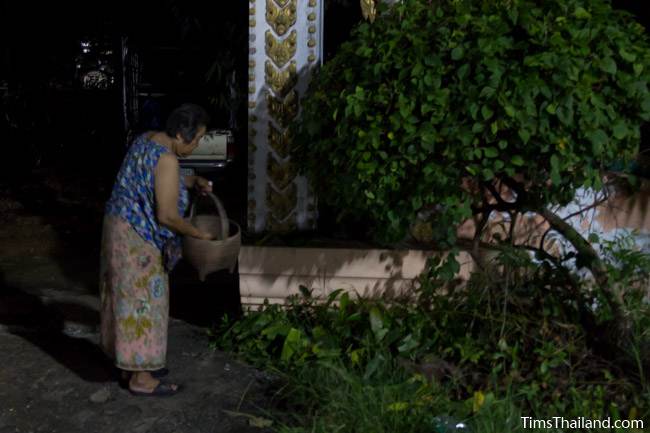 In the Morning
At dawn the next morning people bring food, flowers, and money to the temple – and they bring a lot because all the merit they get for these donations is given to their ancestors.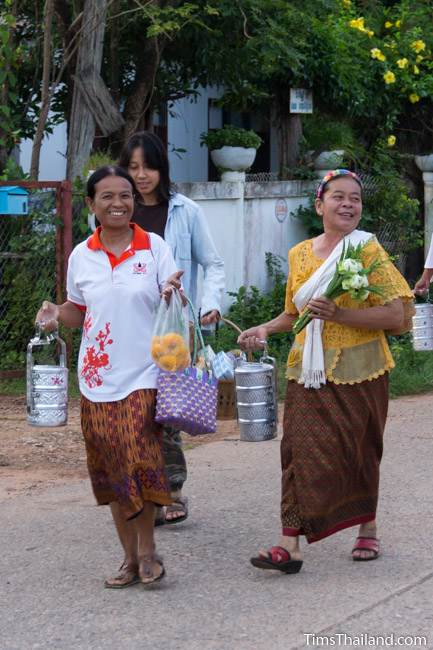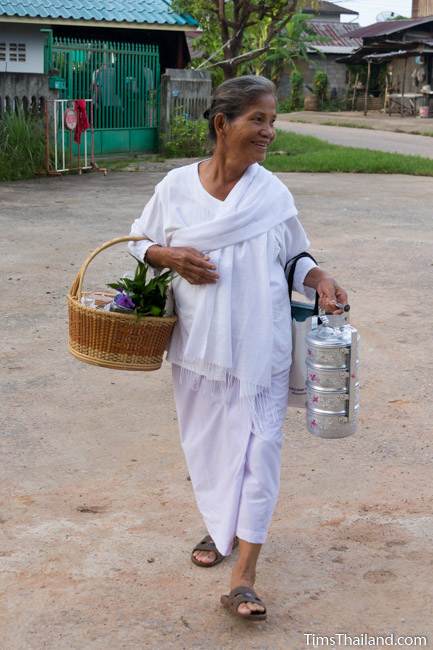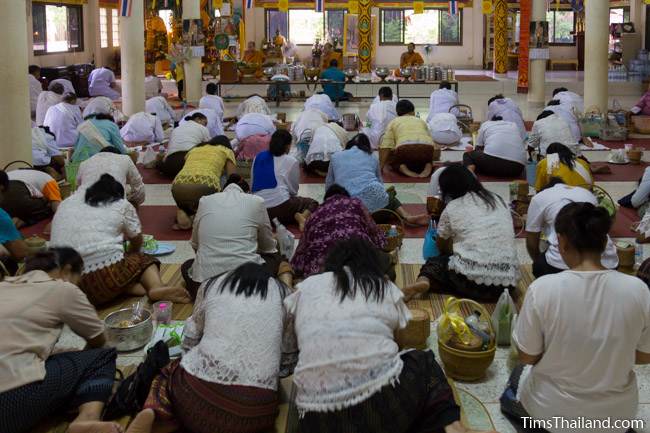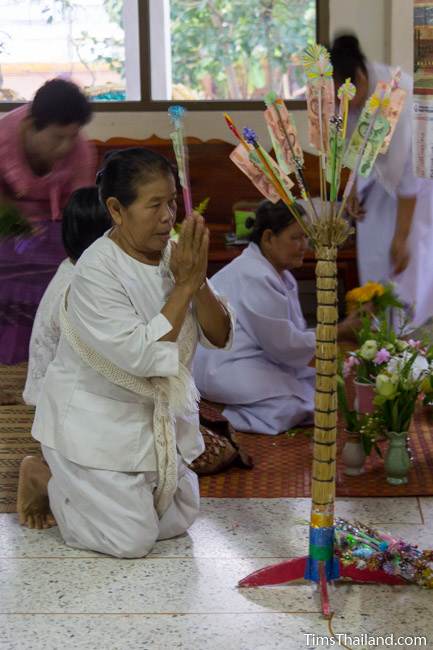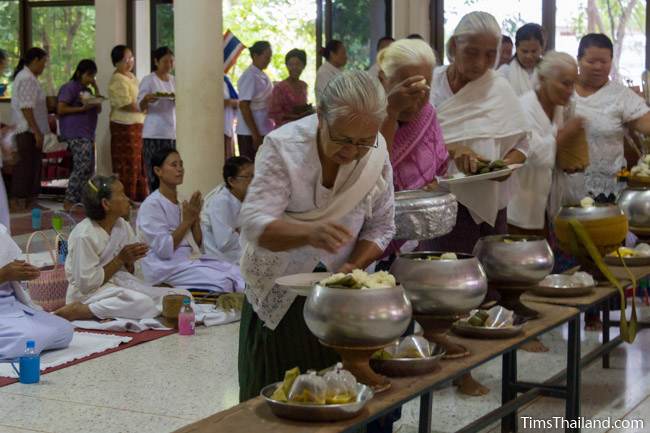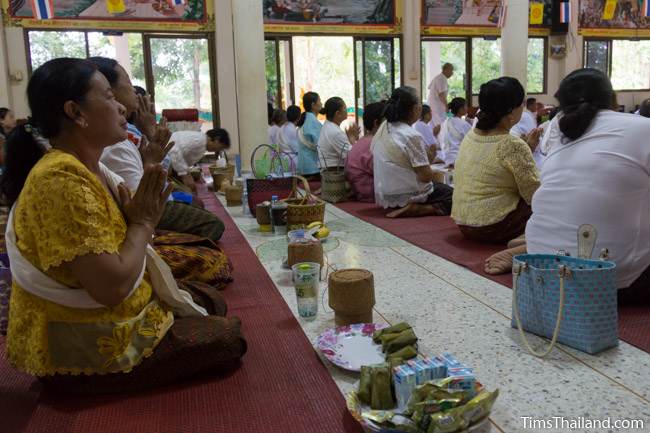 When the monks have finished giving blessings and start to eat their morning meal, people go outside to pour blessed water on the ground by a tree or other plant to pass the merit they earned onto their ancestors. This gruat nam merit-sharing rite can be done by anyone at any time, but it's always done for Boon Khao Pradap Din. Some people also use this time to clean up their family's funerary stupa at the temple.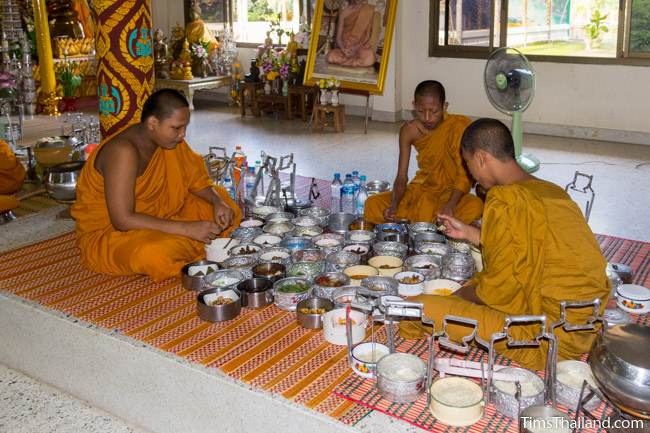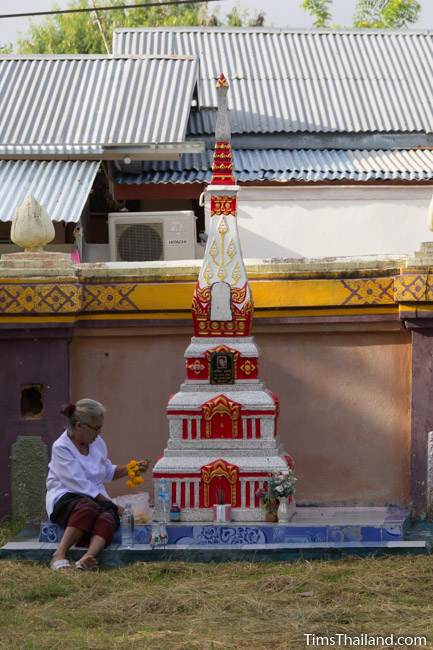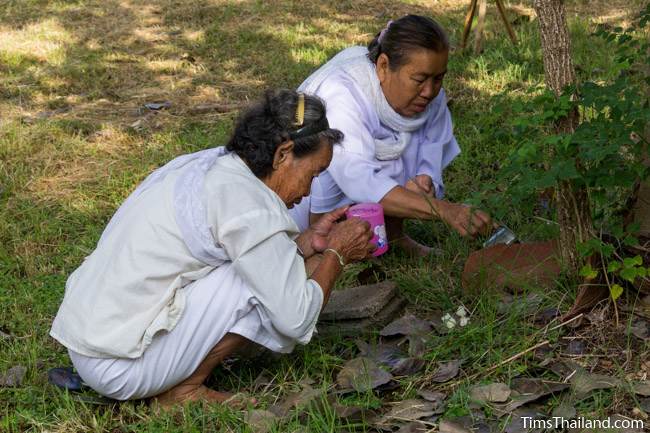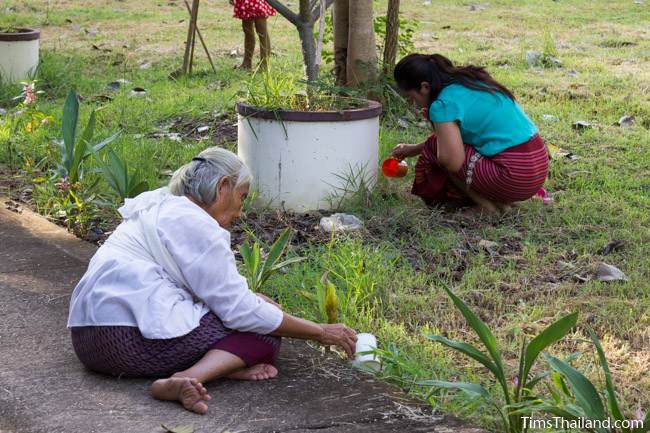 The food packages placed the night before are left there for nature to take its course, though kids speed up the process by opening them to look for one baht coins, which some people put in with the food.