Boon Samha (บุญซำฮะ) is Month #7 of Heet Sip-Song – The Twelve Isan Merit-Making Traditions.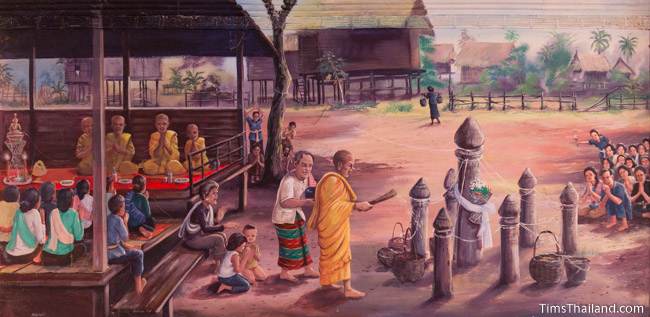 Samha means "washing," and this tradition is the Isan version of spring cleaning, but on a spiritual as well as physical level. Sometimes called Boon Berk Bahn ("Opening the Home") people not only clean out their houses, but also temples and shrines. Ceremonies are done to bless the good spirits and drive out any bad ones. People take water and sand or gravel to the temple for an afternoon blessing from the monks and the next morning, after a second round of chanting, they spread the sand or gravel around their house and fields and splash the water on people and animals to chase away bad spirits. Finally, families will offer food, flowers, tobacco, etc. to their ancestors, and then have a feast together.
Although the tradition is probably of pre-Buddhist origin, these days Boon Samha is associated with an episode from the Buddha's life story. The city of Vesali was suffering death and destruction from a long drought, so the Buddha was invited to come to town and the moment he arrived a thunderstorm began. The water swept away the disease-causing carcasses and the evil spirts fled in fear of the Buddha. A week later the city was essentially back to normal. The renewal aspect of the story is fitting because Boon Samha takes place around the time when the rainy season usually really gets going.
Boon Samha has no fixed date.