Boon Khao Kam (บุญเข้ากรรม) is Month #1 of Heet Sip-Song – The Twelve Isan Merit-Making Traditions.
Once a year the monks of every temple gather together to confess minor transgressions of the vinaya pitaka (the set of rules for monks laid out by the Buddha) and receive a penance. Khao kam (called pariwatkam in Central Thai language) is a period of self-purification for the monks, and transgressors will stay in near total solitude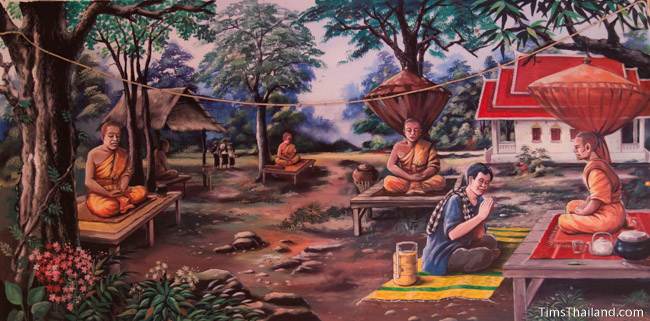 for up to a month. Even the smallest mistakes must be confessed and atoned for. Monks and novices are sometimes told the story of a monk who, while riding in a boat, put his hand in the Ganges River and unintentionally tore a leaf off a plant; or broke off a piece of moss or algae, depending on the storyteller. Year after year he remembered and regretted doing this, but never confessed it at khao kam because it was such a small thing. As a result, in his next earthly life he was born as a naga.
Lay people believe that during this time they will earn extra merit for their offerings because the monks are sure to be highly disciplined. Generally people bring food to the temple in the morning as normal, but they will also bring drinks in the afternoon. Since many of the monk rules are also good practices for lay people to follow, Boon Khao Kam is a chance for people to renew their own commitment to living a mindful life.
Boon Khao Kam has no fixed date and can occur in December, January, or February regardless of when the first lunar month is. This is the one boon that is no longer widely practiced and most temples do not do it.