Boon Khao Jee (บุญข้าวจี่) is Month #3 of Heet Sip-Song – The Twelve Isan Merit-Making Traditions.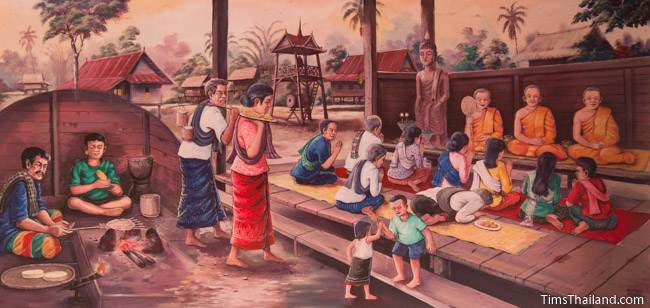 Khao jee is grilled sticky rice battered with egg and salt and sometimes stuffed with pieces of cane sugar. It's a common Isan food sold by many street vendors and in every morning market. During Boon Khao Jee people get up early to grill them for the monks' morning meal. (Not everyone does khao jee, many people make khao giap rice crackers or khao tom mat stuffed banana leaves instead – it's making something special from sticky rice that matters; Boon Khao Jee is just a name.) And along with eating, the monks give a special sermon.
Boon Khao Jee is said to have been inspired by an episode from the Buddha's life story. One time a very poor woman named Punna had nothing to offer the Buddha except simple rice crackers made from broken rice with no oil, flour, or sugar. She assumed he would not eat them, perhaps toss them to a dog, but knowing her thoughts, he ate them right after she gave them and then preached to her so that she was able to have a major breakthrough in understanding dharma.
Boon Khao Jee often happens on the full moon day (the same day Makha Bucha is celebrated), but some villages do it at other times. It is usually celebrated together with Boon Khun Lan as a single festival.