Sapan Khom (สะพานขอม), literally meaning "Khmer bridge," is the only Khmer bridge that has been found in Thailand.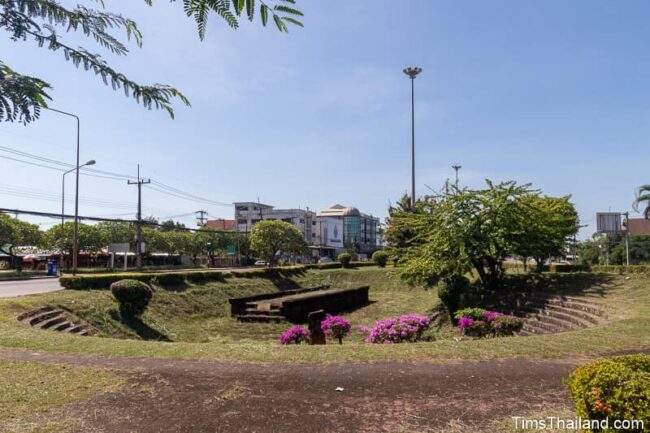 It's a restored 16m-long, 3m-wide remnant of what back then sat just outside the city moat. It was part of a road heading northwest toward Udon Thani and surely passed right by Phra That Narai Jeng Weng and Ku Phanna, plus provided access via a side road to Phra That Phu Phek.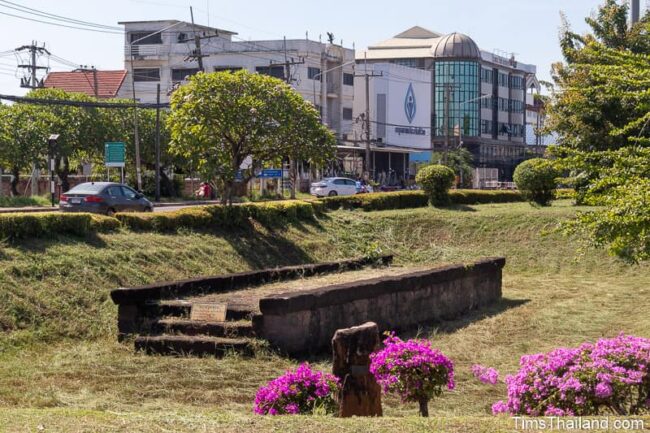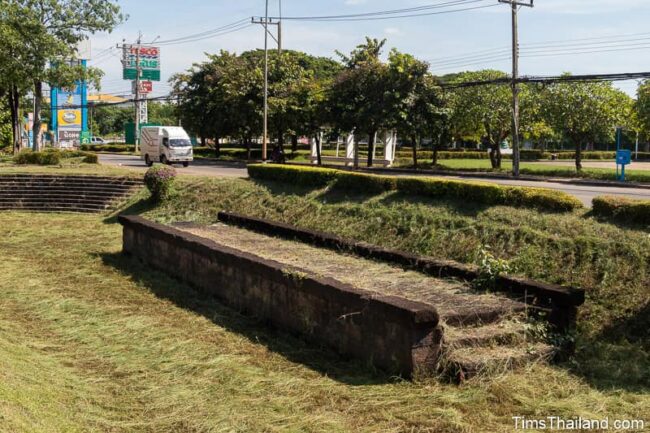 There is no river here now, but the Huai Mong river, which feeds Nong Han lake, is just 120m away. Whether this remaining section of Sapan Khom was the actual bridge and the river migrated west over the centuries or whether it just crossed over a swampy area alongside the river is unknown.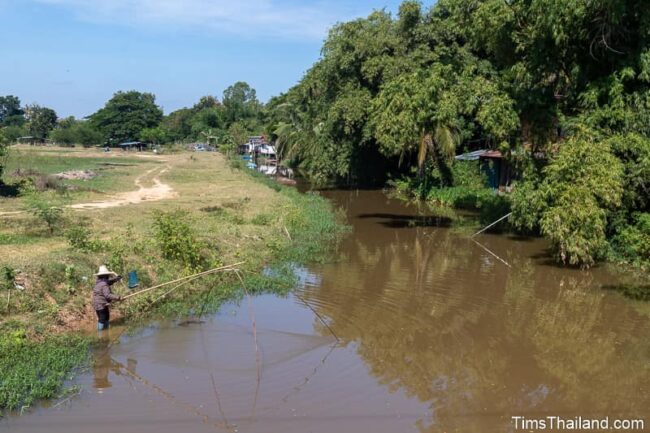 The sign on the bridge says it was "built in the 16th Buddhist century" (11th century BCE), but this should say "built as early as" rather than in. Dating the bridge is not possible and so it could have gone up at any time while the Khmer were here, meaning possibly as late as the 13th century.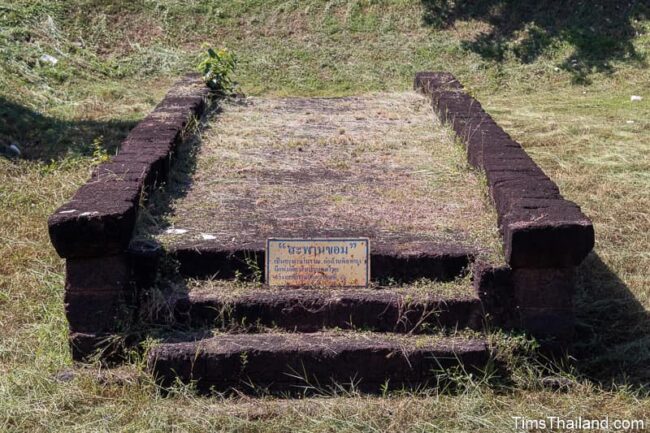 The bridge appears to just be blocks of laterite laying on flat ground, but look closely and you will notice there are eleven columns holding it up. Sapan Khom was likely two or three meters tall, but the land under it has silted in nearly to the tops of the columns. As the bridge is quite small, the columns are straight; it did not need the corbelled-arch construction seen on other Khmer bridges, such as Kampong Kdei pictured below.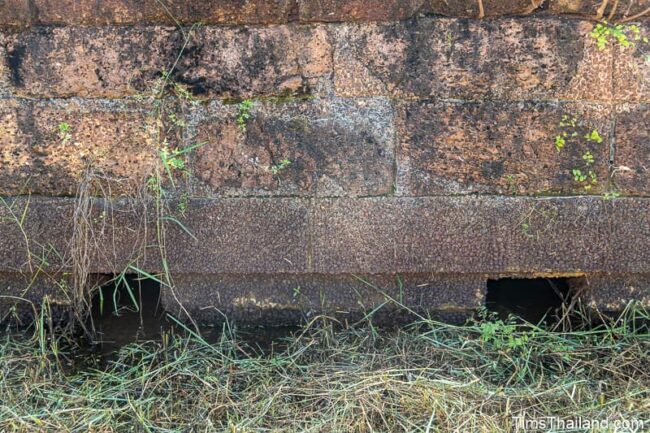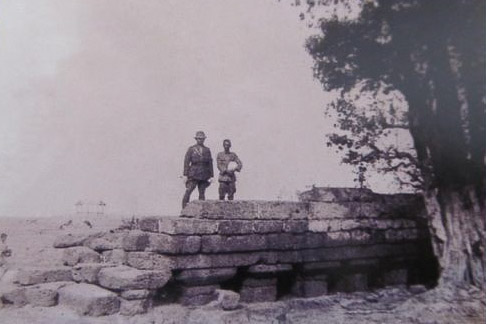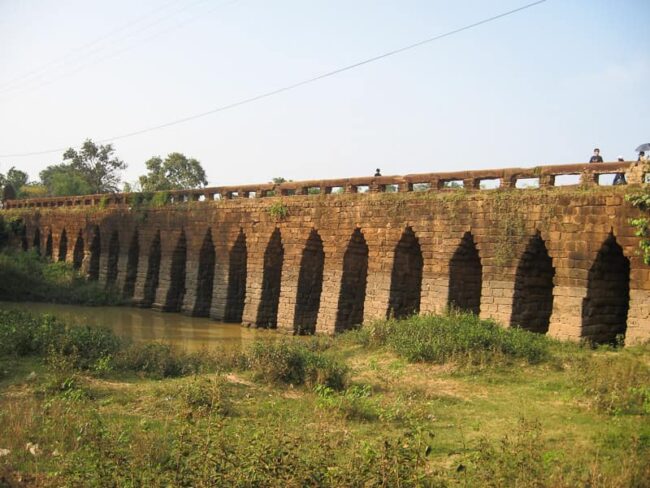 The span's bottom layer is a concrete reconstruction covered with small pieces of laterite; and looks effectively real enough that few people seem to notice. The steps at the ends were also added at that time and were, of course, not found in the original.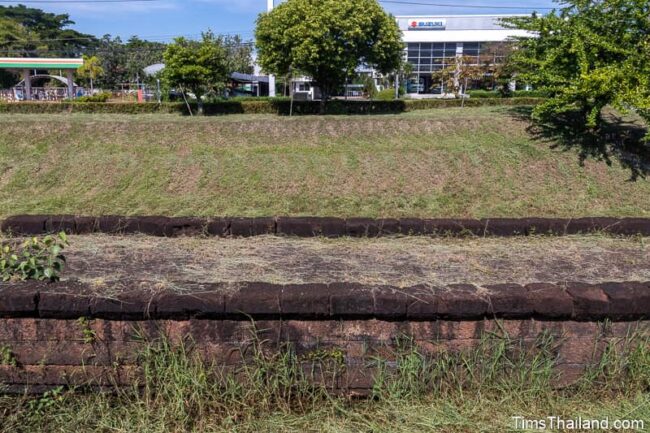 The bridge is in a small triangular park called Lan Ruam Jai Thai Sakon ("Sakon Feel Good Together Park"), which doesn't get much use since it's small and surrounded by the road. In front of the bridge is a piece of 10-million-year-old petrified wood and there are a few small sculptures nearby. At the head of the park is the Sakon Nakhon City Gate, which represents the city's ancient roots with a Khmer-themed relief sculpture of the Legend of Phan Don ("Albino Barking Deer") featuring scenes such as building a Khmer temple – presumably this is meant to be Phra That Choeng Chum.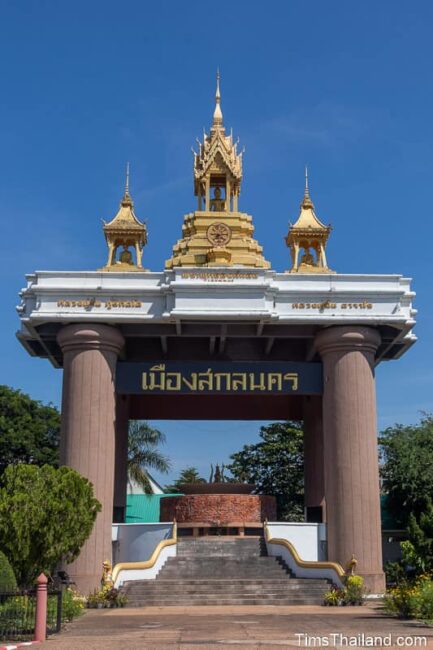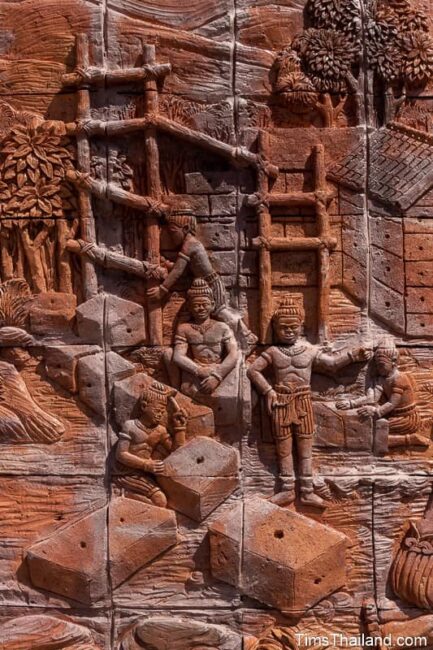 Sapan Khom was almost completely destroyed several decades back (I couldn't find a reliable source giving the date.) when Nittayo Road was expanded. It was covered by gravel, but the Fine Arts Department stepped in and the road was built to the side rather than on top of it. Then it was ordered uncovered and restored.
Location – Nittayo Road, Tambon That Choeng Chum, Amphoe Mueang, Sakon Nakhon Province
Other Names – Sapan Hin (สะพานหิน)
Thanks to Ajahn Sansonthi Boonyothayan for sharing the historic photo. There are many more on his website.
Kampong Kdei Bridge photo by Liftold from Wikimedia Commons.