The Khmer city that preceded present-day Sakon Nakhon appears to have been the empire's most important outpost north of the Phu Phan Mountains (Though it was probably not under direct rule from Angkor, rather the leaders paid tribute as a satellite state while retaining a degree of independence.) from around the late 10th century into the 13th; no doubt in large part because the 125-square-kilometer Nong Han lake assured abundant water year-round. Salt was also a factor, and it was so plentiful that it was shipped all the way to Angkor.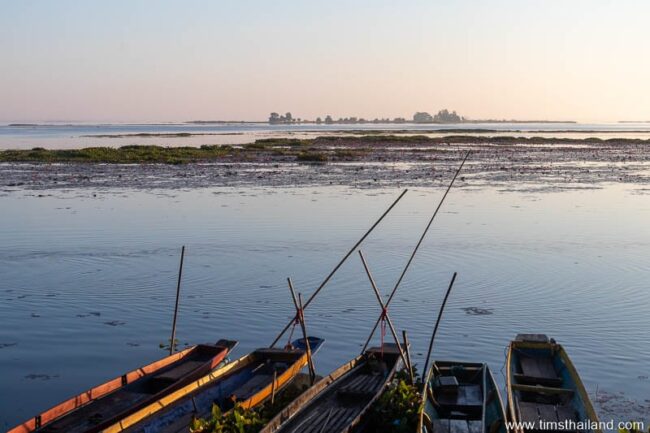 The Khmer abandoned the town (sometimes referred to as Nong Han Luang, though what the Khmer actually called it is unknown) after King Jayavarman VII (r. 1182-1219) died and later Lan Chang Lao moved in from across the Mekong to settle a city they called Chiang Mai Nong Han ("Nong Han New City"), appropriating the Khmer prang Phra That Choeng Chum (พระธาตุเชิงชุม) for Buddhism.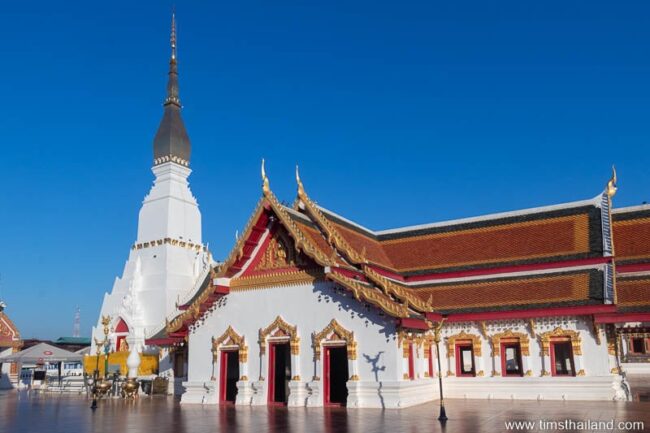 Today this site is home to the city's most important temple, Wat Phra That Choeng Chum Worawihan, and though most of the Khmer construction is gone, the prang remains at the heart of it. The name Phra That Choeng Chum means "Stupa of the Gathering of the Footprints" because, legend says, it was built above footprints left by the last four perfect Buddhas: Kakusandha, Konagamana, Kassapa, and Gautama. And eventually this eon's fifth and final Buddha, Maitreya, will come leave his mark too. Due largely to this legend, the temple is known nationally and once backed the ten satang coin.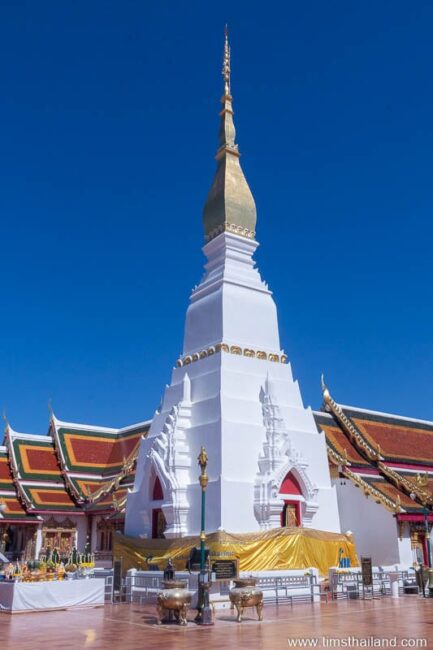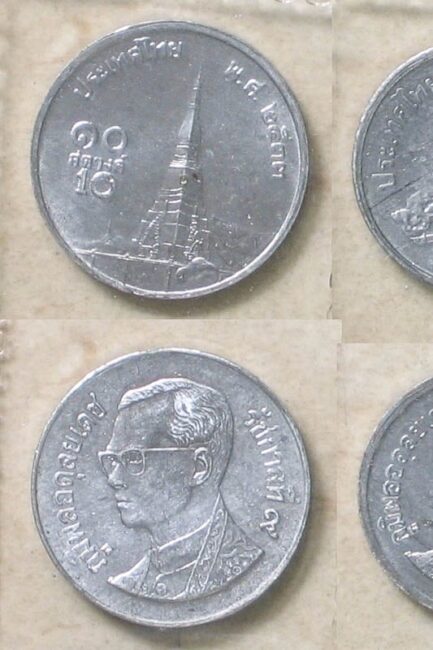 The original Khmer stupa, built of laterite blocks probably in the 11th century, was covered up in the 17th century by the Lao and later modified further under Thai rule. It's now a gleaming white 23.5-meter-tall spire, it's top covered with gold and holding a solid gold chat "umbrella." But if you look inside, you can see the original walls.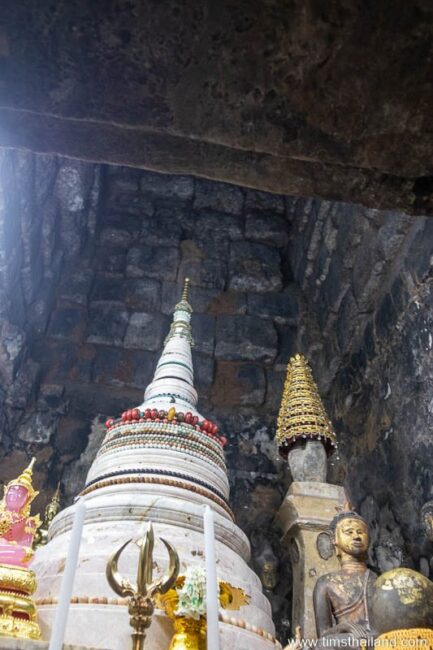 From the adjoining wihan, you can peek in through the solid sandstone doorframe, though the monks no longer let people walk inside the prang. (I was able to do it about 15 years ago.) Men (but not women) can enter the small passageway to get a closer look through the security gate.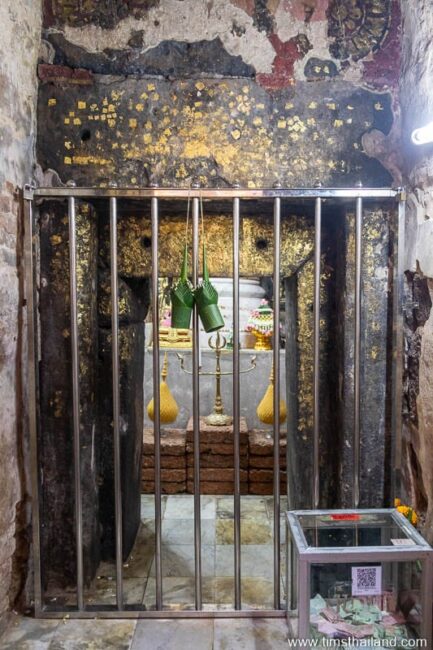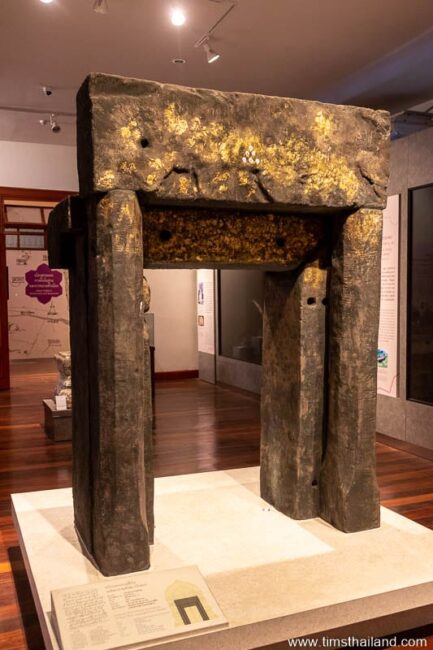 Inside the doorway, clearly visible on the right-hand side, is an inscription written in old Khmer. It's a dedication informing that a local leader donated the land and other things including four workers (or slaves – this distinction is never clear in Khmer inscriptions) to tend to the temple, six cows, and rice.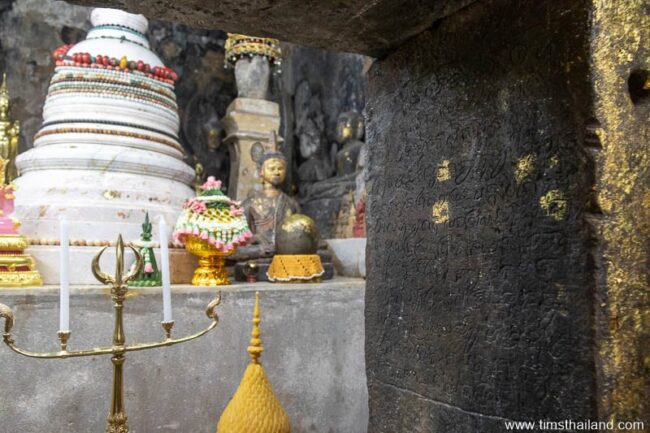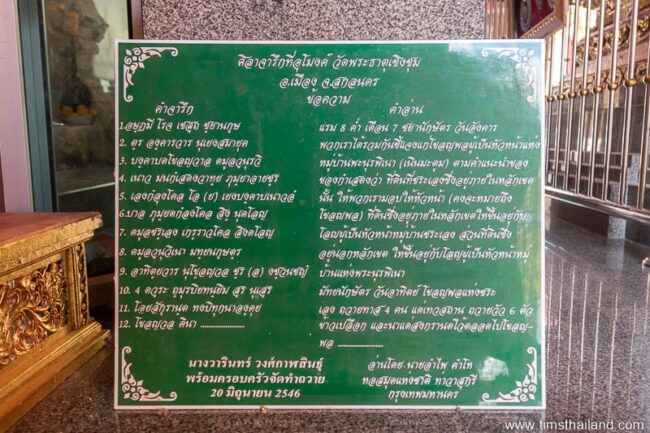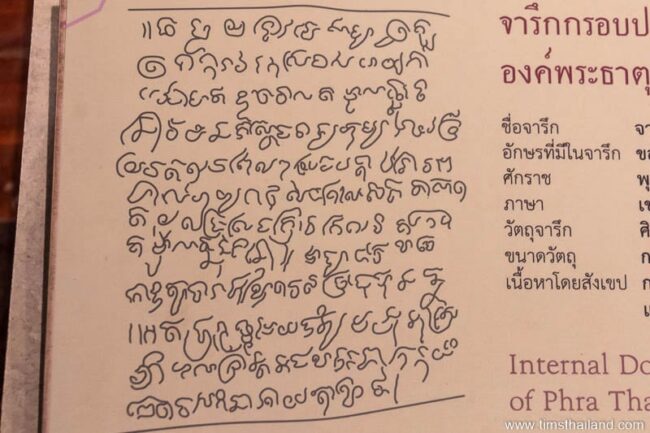 When the prang was built, there was likely a Shiva linga in the center. While it has vanished, a well-preserved Shiva statue and several other artefacts can be seen in the Sakon Nakhon Museum. Nowadays a big modern platform holds a small white marble stupa covered with beads and many Buddhas, both old and new: none of them that are visible appear to date to Khmer times.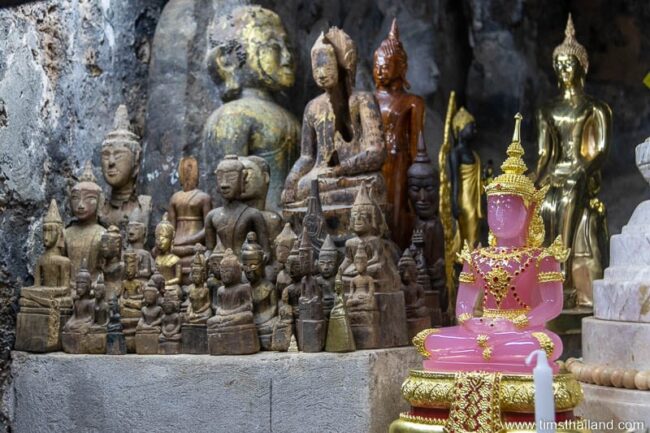 The beautiful brick and stucco decoration around the passageway is Lan Chang, not Khmer.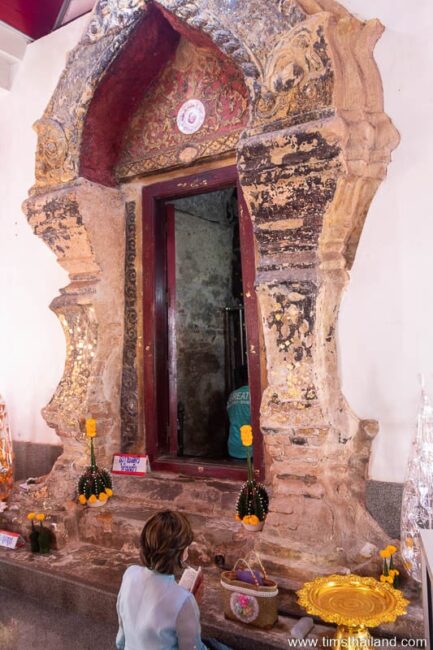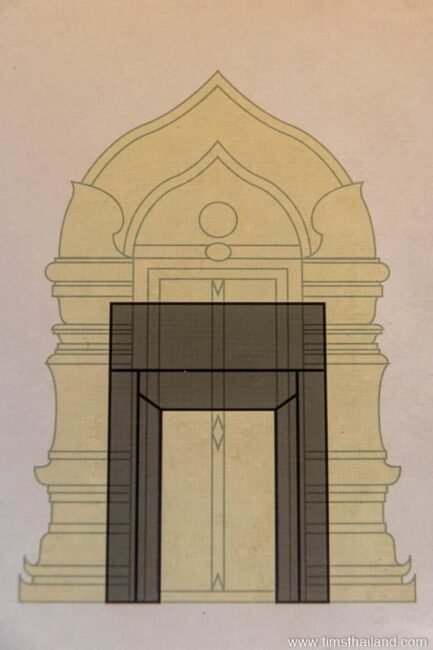 A 210m-by-400m baray, now called Sra Pangthong (It's said that this name is a Thai-ified version of the Khmer word trapang, meaning a lake dug by people.), sits just 230 meters northeast of the stupa in Suan Somdet Phra Srinagarindra park. Unfortunately, some people in the local government have taken the silly idea of Phra That Phu Phek's "Zodiacal Solar Calendar" seriously and have put up a display about it in the park.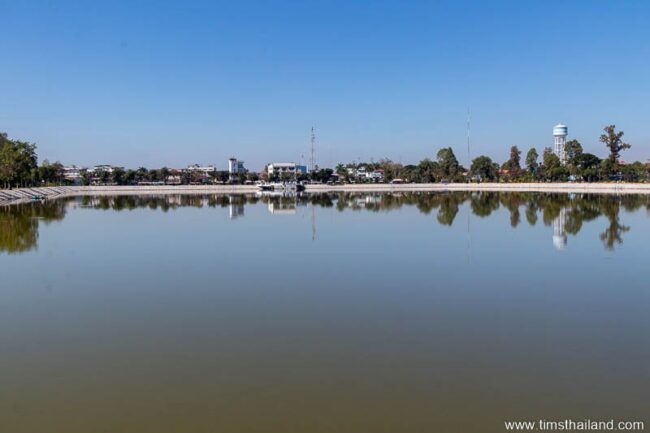 The Khmer also dug a moat around the town and temple. While the waterway is gone, its extent is still visible from above because Thanon Kumuang ("City Moat Road.") and some other roads follow its path.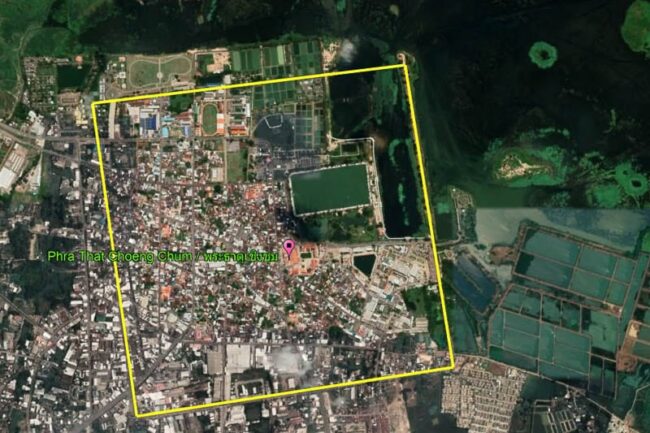 Other Things at Wat Phra That Choeng Chum
Wat Phra That Choeng Chum is one of Sakon Nakhon's principal tourist attractions and there is a lot more to see than just the stupa, including these highlights.
Ubosot Murals
Alongside the prang and wihan is a beautiful modern ubosot built in Lan Chang style with a wide sweeping roof. Inside are wonderful murals of Jataka tales, the Ramakien, scenes of local life, and more done in a classic style.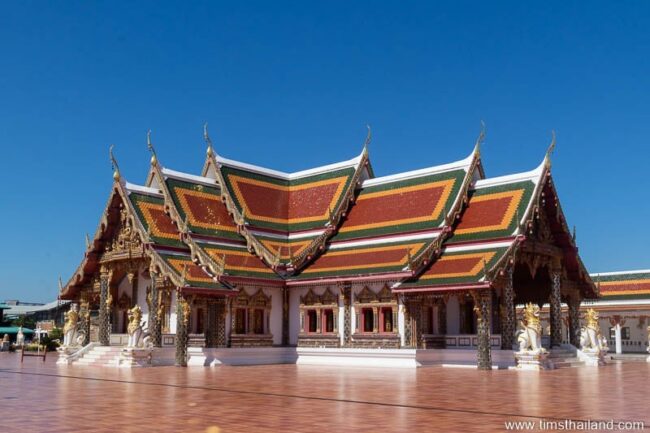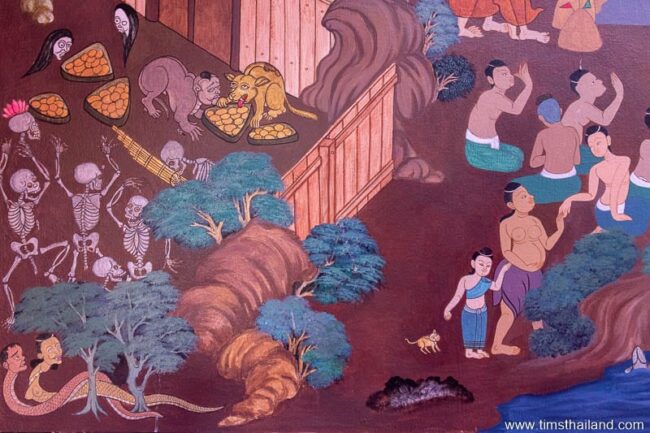 Old Ubosot
Next to the stupa is a small century-old ubosot built in 1920 by Vietnamese craftsmen. Its open-air design is typical of the time; though unusually it faces south, not east. It has three old Buddha statues and a Buddha footprint.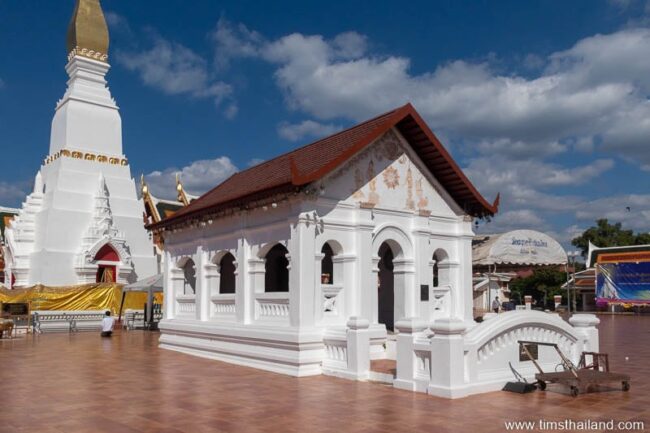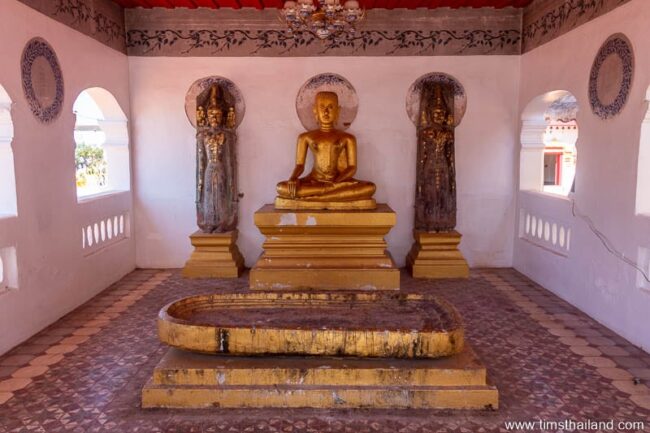 Manuscript Library
In the southeast corner of the temple is a unique octagonal haw-dtrai set in a small pond, which is home to many giant frogs. It once held a small historical museum, but at present is nearly empty.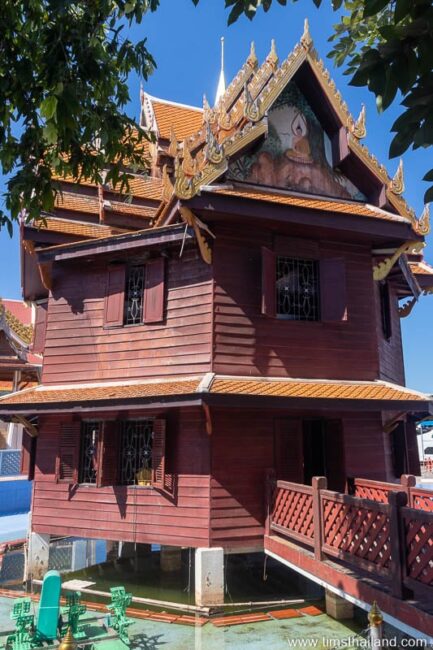 Details – The wihan is open 7am-7.30pm daily.
Location – Wat Phra That Choeng Chum Worawihan, Tambon That Choeng Chum, Amphoe Mueang, Sakon Nakhon Province
Other Names – That Choeng Chum (ธาตุเชิงชุม), Prasat That Choeng Chum (ปราสาทธาตุเชิงชุม)
Further Reading
Boonpok, Duangden. "การผสมผสานทางวัฒนธรรมในแอ่งสกลนคร: กรณีศึกษาเขมร ลาว และไทย An acculturation in Sakon Nakhon Basin: a case study of Khmer Laos and Thai." Veridian E-Journal, Silpakorn University, Jan-Feb 2019
Hendrickson, Mitch. "Arteries of Empire: An operational study of transport and communication in Angkorian Southeast Asia (9th to 15th centuries CE)." PhD diss., University of Sydney, 2007.
Coin photo by Lerdsuwa from Wikipedia.