Set in a small grove of tall trees, Prang Ku Kaew (ปรางค์กู่แก้ว) is one of the arogayasala hospital temples built by King Jayavarman VII (r. 1182-1219). It faces east and follows the standard arogayasala design, although nothing remains of the bannalai, which would have been inside the enclosure, and the sacred pond, which would have sat outside it to the northeast.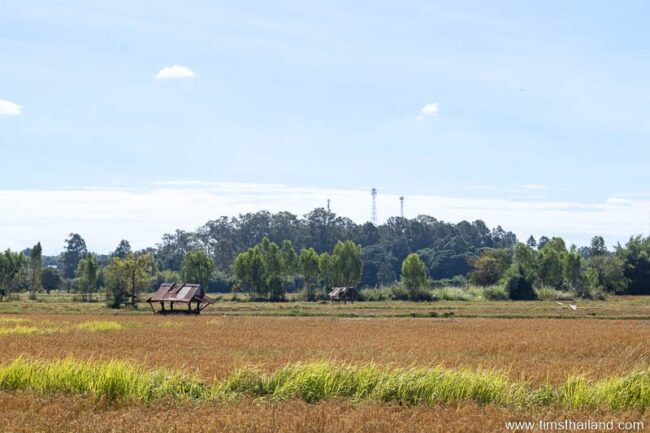 The laterite prang toppled, and in its place locals long ago piled laterite many of its blocks into a pyramidal stupa topped with bricks. The bricks came from a Lan Xang-era stupa built here much later that also collapsed.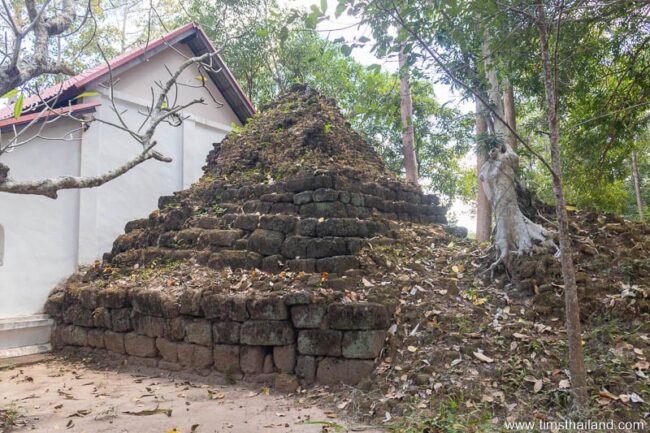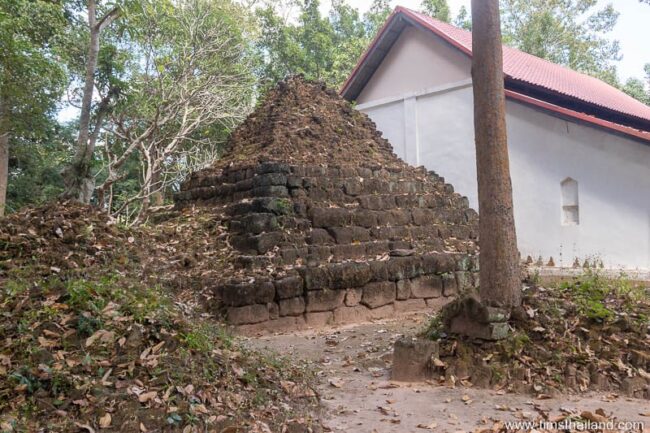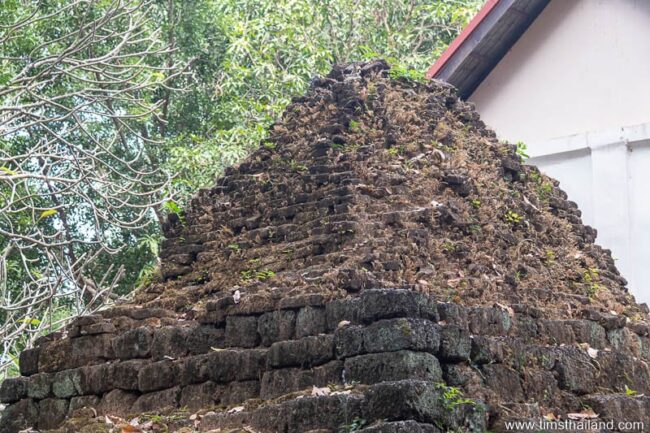 Though the Fine Arts Department surveyed and shored up the site in 1990, locals liked it in its present form and rejected a full restoration, so the pyramid remains – it's now a symbol of the town – as does the present Thai temple's simple former ubosot (now used as a shrine for locals to make offerings) that was built amidst the ruins many decades ago.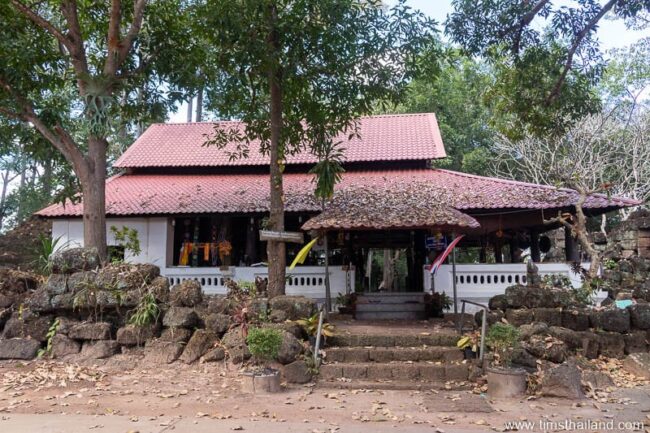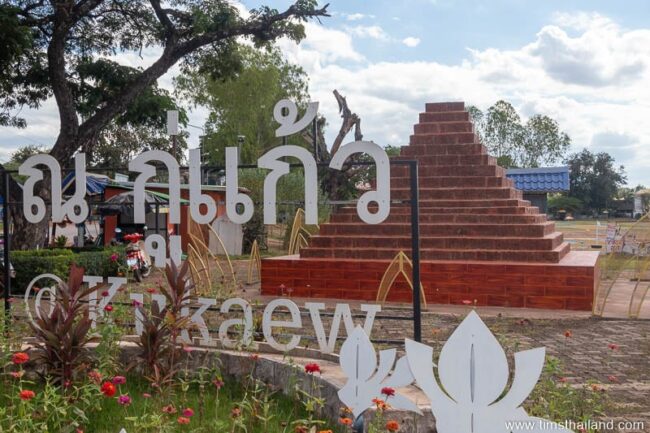 Surrounding the prang and wihan is a laterite enclosure. Parts stand semi-intact, but it's mostly just jumbled blocks stacked rather haphazardly.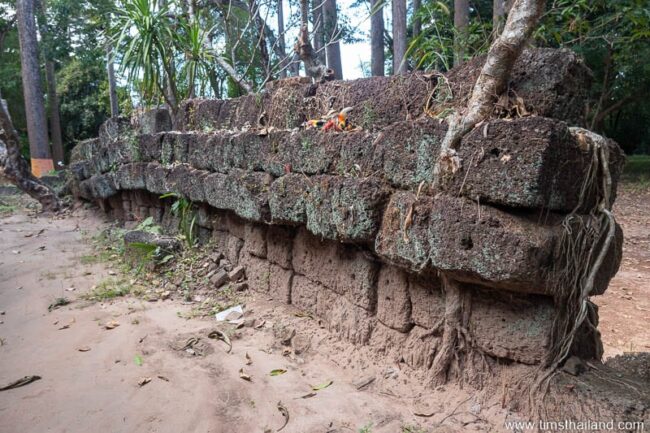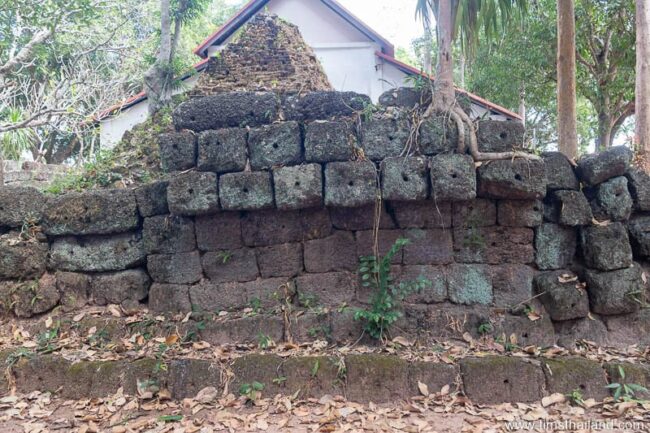 The size and shape of the collapsed gopura in the east wall of the enclosure indicate it had the standard three-room design, a large room in the middle with a small wing on each side. Several sandstone slabs from its door and window frames sit at the back.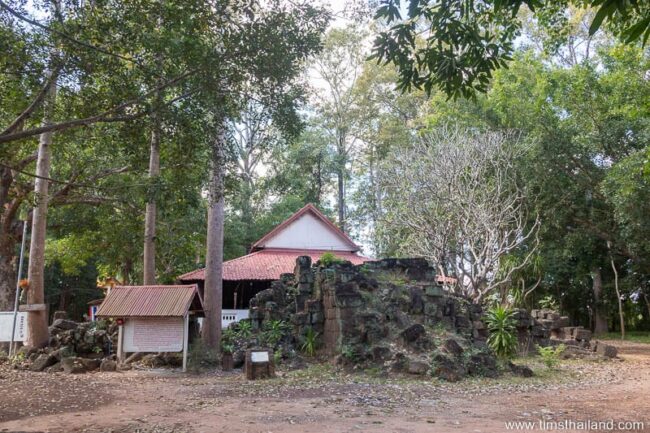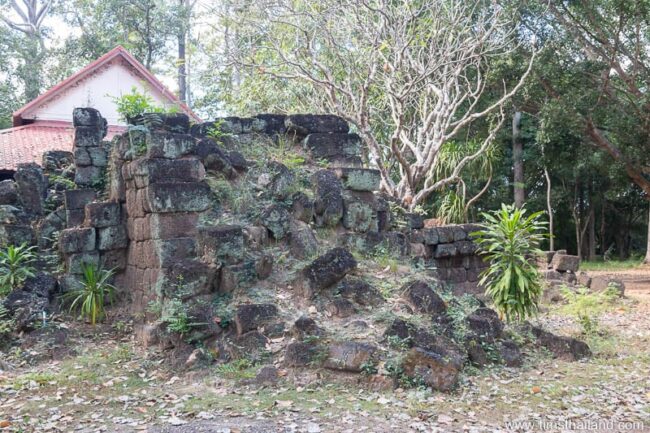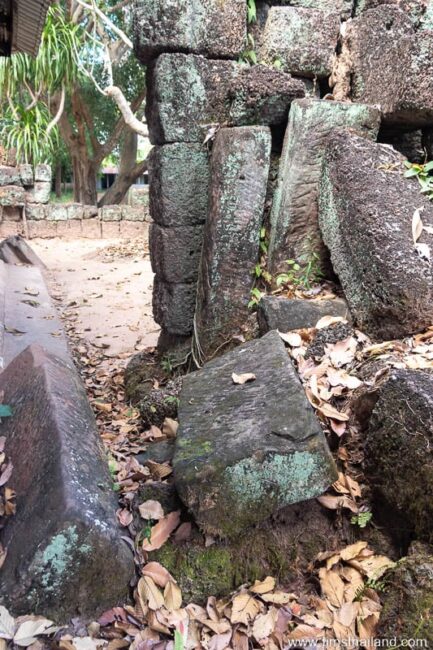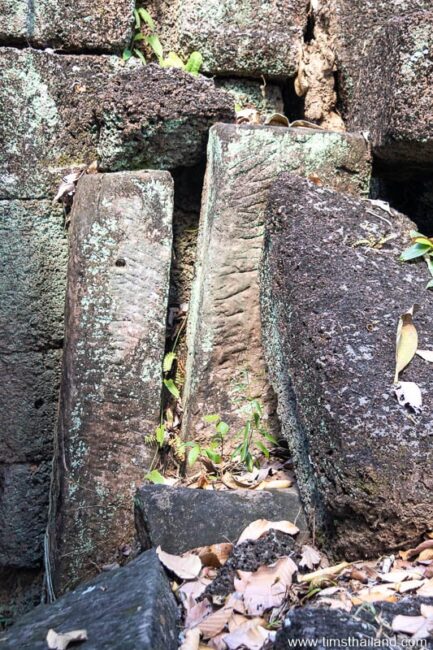 Sitting on one of the piles of bricks southwest of the prang is the broken bottom half of a Buddha, the left-hand fingers and right wrist clearly visible. Set on the prang near the Buddha are a few other less-distinct fragments of sandstone statues; a couple with what are clearly post-Khmer Buddhist carvings on them.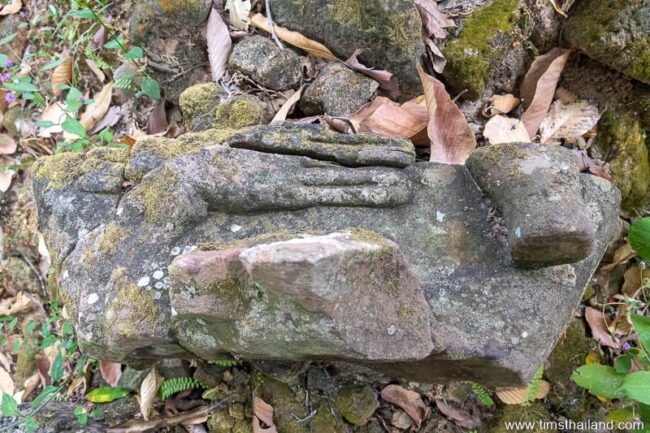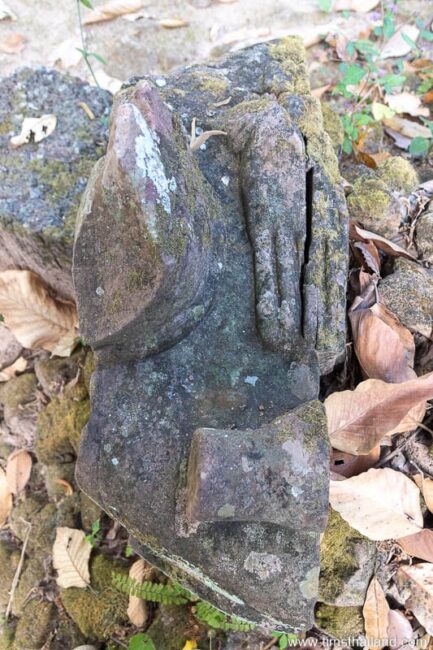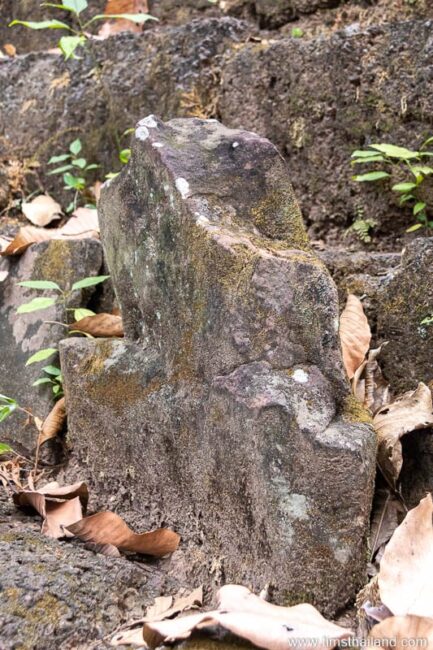 Caged up inside the old ubosot for safekeeping rather than put on proper display is an interesting lintel with Vishnu riding on a garuda. He's grasping two garlands that transform into large nagas at the ends. It's far from a classic Bayon-style lintel and so was probably repurposed from another temple, something that might have been necessitated by this remote location. Displayed around the lintel are some small Lan Xang-era Buddhas and a few pieces of pottery; the latter are in back and very hard to see but appear to be Khmer, and a monk said that he thinks they are.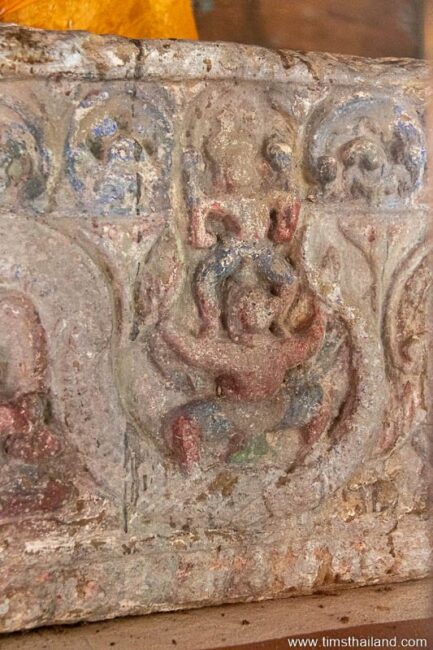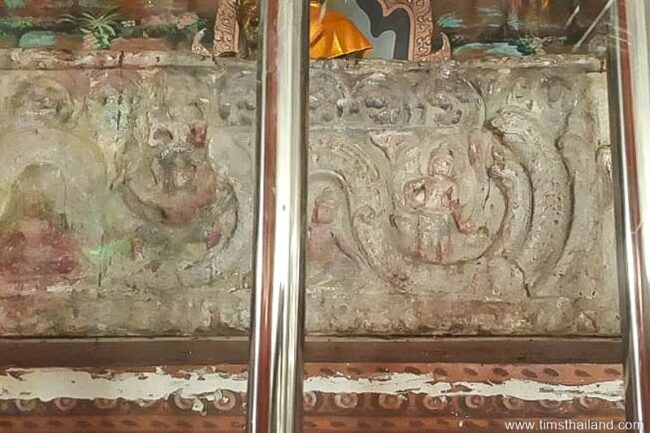 The final carving of note at Prang Ku Kaew is a very eroded, but it sure looks like it could be one of the naga antefixes that often appear at the corners above doorways. Whatever it is, this stone has been adopted for use as a bai sema at the northeast corner of the old ubosot.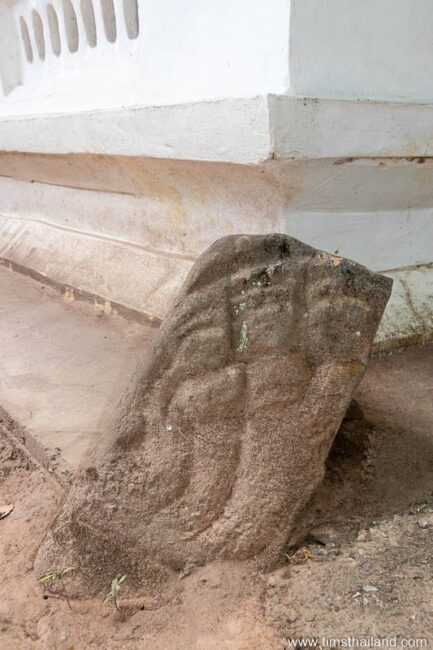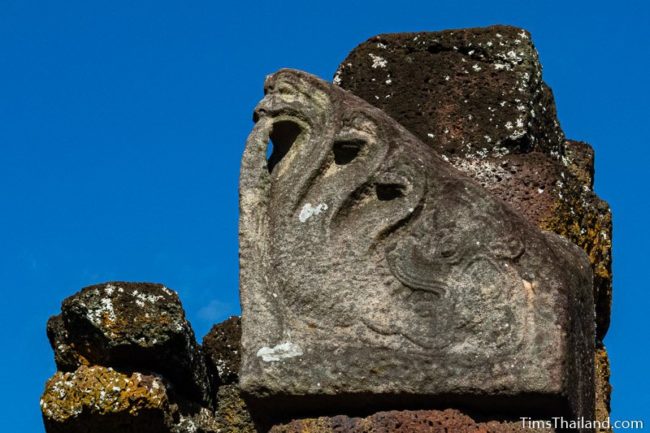 Location – Wat Ku Kaew Rattanaram (aka Wat Ban Chit), Ban Chit, Tambon Ban Chit, Amphoe Ku Kaew, Udon Thani Province
Other Names – Ku Kaew Ban Jeet (กู่แก้วบ้านจีต), Prasat Ku Kaew Ban Chit (ปราสาทกู่แก้วบ้านจีต)