อ่านภาษาไทยที่นี่ (Click here to read a Thai version.)
The idea for Phra Mahathat Kaen Nakhon stupa, the famous centerpiece of Wat Nong Wang temple in Khon Kaen city, came from the highly respected Phra Tama Wisut Tajan, the then abbot of the temple. Usually called Luang Paw Koon Kantigo, his life story is told in these mural paintings on the stupa's fourth floor. It begins in the northeast corner, next to the main stairs.
Thanks to Suttawan Bewer, Chutima Intarapanich, and Prapaporn Sompakdee for helping me with the translation.
— — —
Mural Paintings. The biography of Luang Paw Koon Kantigo, the abbot of Wat Nong Wang Phra Aram Luang, Khon Kaen Province, who built Phra Mahathat Kaen Nakhon.
Painted by Khon Kaen local artist Kru Thammarong Kaewboran (Following the story as told by Luang Paw.). Painting began July 20, 2017.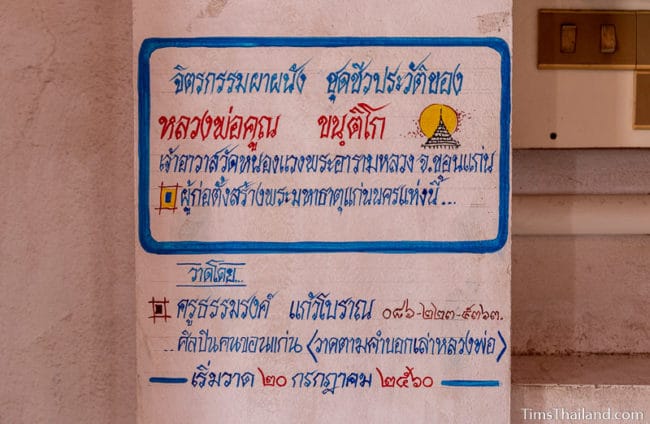 (1) Luang Paw was born on January 27, 1929 in Ban Uparat, Tambon Tha Song Khon, Amphoe Mueang, Maha Sarakham Province. His parents, Mr. Lee and Mrs. Da Suyoi, named their son Koon. He was the fourth of nine children.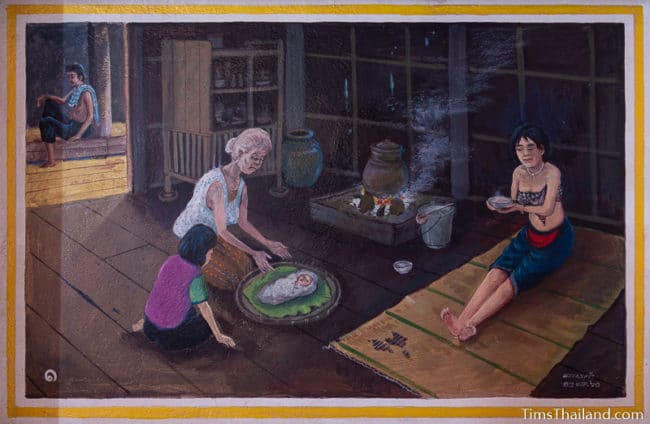 (2) Koon went to first through fourth grades at Ban Tha Song Khon School. He often got the top test score in his class and he got the highest grade-four test score in the tambon (sub-district). After this, the family moved from Ban Uparat to Ban Tha Song Khon because it was closer to their rice fields.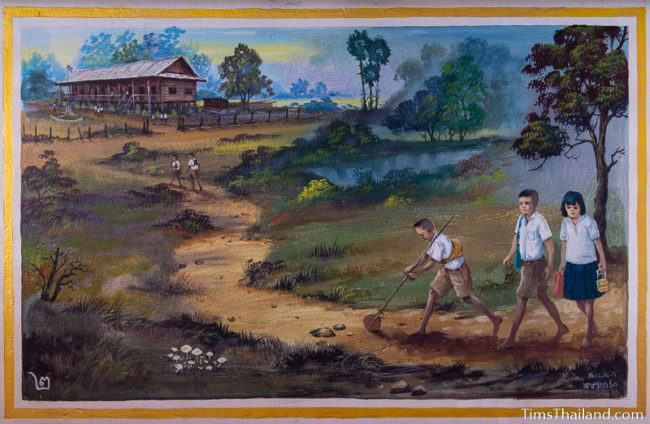 (3) After school his friends went to play together, but Koon had to carry water to sell to teachers to help his parents; the money he made paid his school fees. He earned one satang for each shoulder-load of non-drinkable household water from the Chi River and two satang for each shoulder-load of drinking water from Tung Maka well in Ban Non Tae. On days when he had a lot of strength he could earn six satang.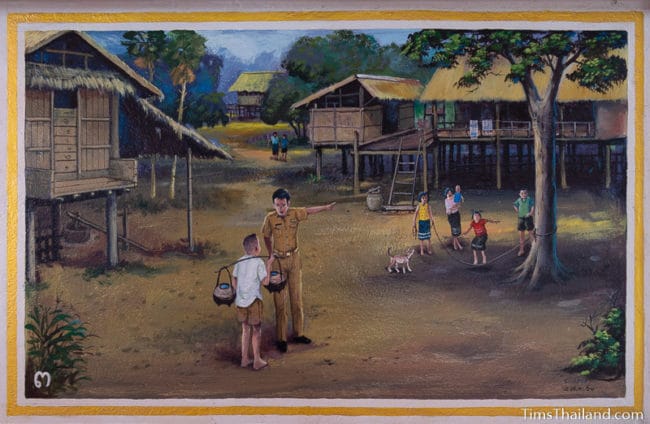 (4) When Koon was eight years old, he and his siblings walked back home from their paddy fields at dusk. One time as they passed through a thick forest (now home to Wat Pa Santiwan Phanchart) they encountered a fishing cat that seemed like it was going to attack. They stared at each other for a bit before it walked away. This was another reason his father chose to move their home.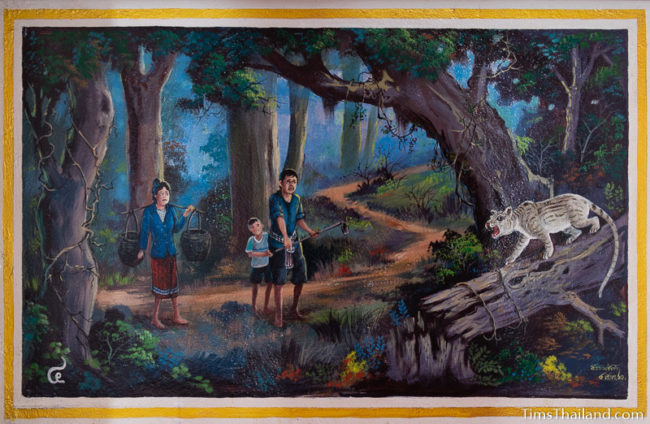 (5) When his sister was married, his older and younger brothers ordained as monks and novices and he had to do all the household chores – getting water, pounding rice, bringing firewood, spinning cotton thread (normally women's work) – and he had to leave school because his family didn't have enough money.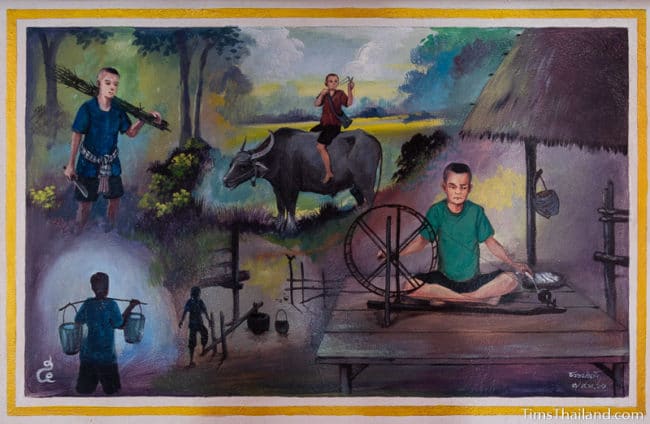 (6) When Koon was a teenager he worked with his parents every day, taking care of the rice paddies, vegetable garden, and fruit trees in the rainy season, and planting gourds, watermelon, tobacco, and more the rest of the year.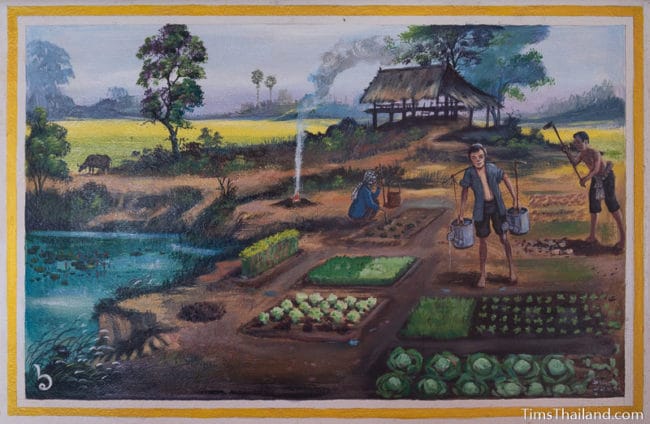 (7) When he had free time away from the farm, Koon cut wood to eventually use for enlarging the family home and he also made charcoal to sell.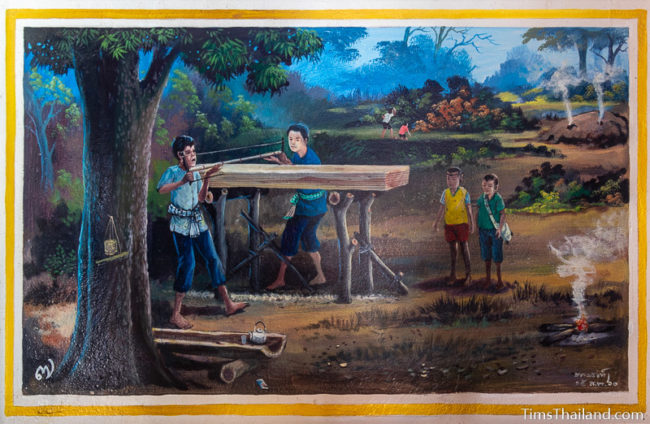 (8) Occasionally Koon got the opportunity to work as a middle man buying and selling unhusked rice in many villages in nearby provinces.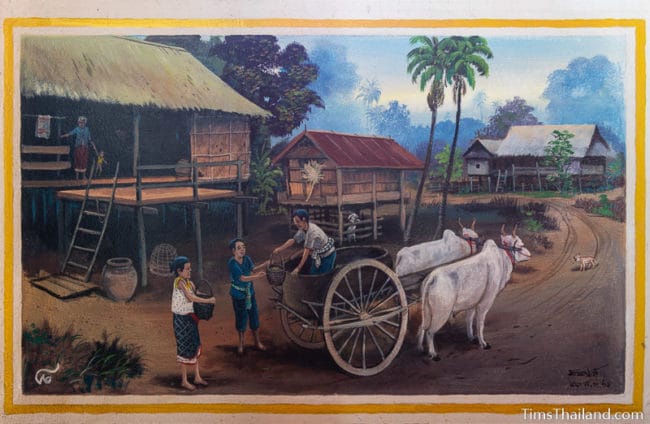 (9) When the Chi River got very low during the dry season the family also made money digging clams. They would put them in a basket and go sell them in and around the village.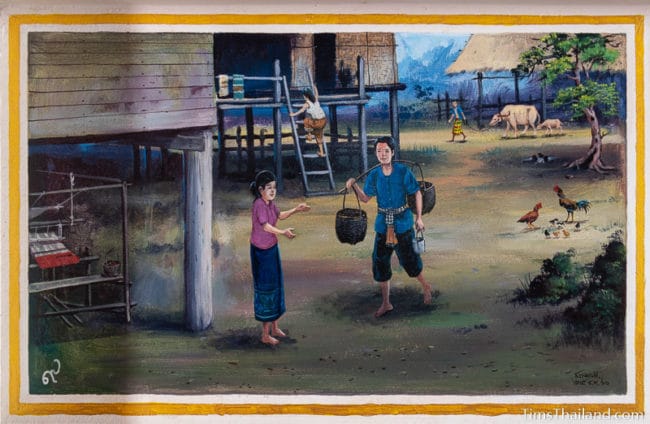 (10) When the government created a new development program called rat-ta-niyom ("cultural mandate") it became popular for young men and women from the village to dance together during the night. Koon went to entertain them. He got both money and happiness; but had to remain mindful.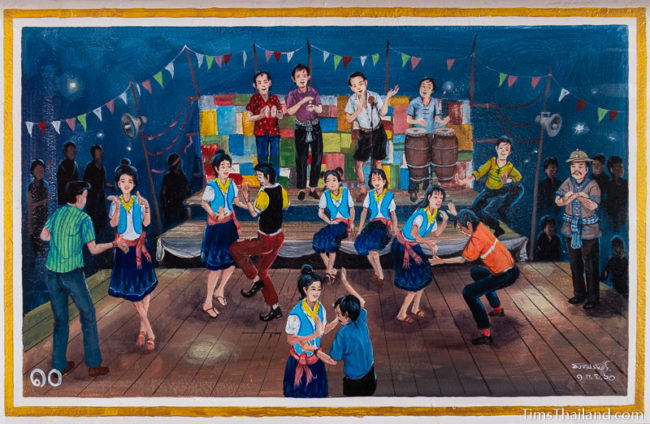 (11) When Koon turned 20 years old his parents let him ordain as a monk during the Boon Bang Fai rocket festival. He did so at Wat Yai Pho Chai in Ban Tha Song Khon, Amphoe Mueang, Maha Sarakham Province on May 20, 1949 under the abbot Pra Kru Sarakitprayut. He took the monastic name Pra Piksu Koon Chaya Kantigo. Thirty-two men ordained at the same time as him.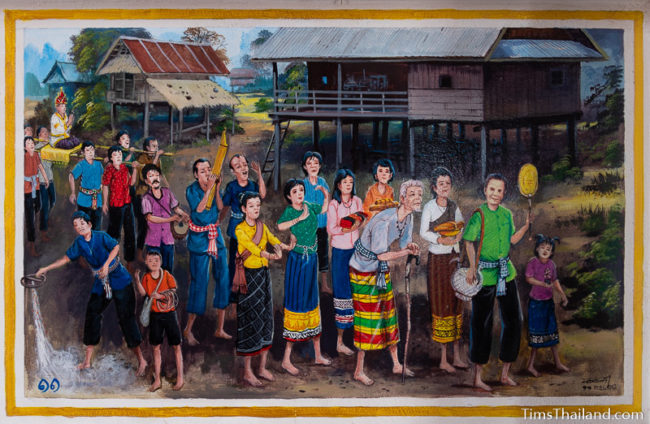 Mural paintings of Luang Paw Koon Kantigo as a monk.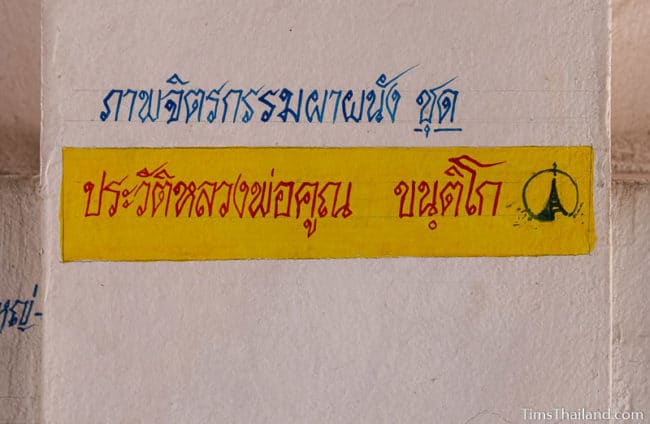 (12) In 1950, after Luang Paw Koon was a monk for one year, he passed the first-level dharma exam and memorized many sermons, so he was often invited to join in ceremonies. That year he went to Wat Ban Kam Tao in Amphoe Kantharawichai for the annual Buddhist Rains Retreat to study and practice preaching with Phra Ajahn Kam Sing. He participated in many events and started to become well known.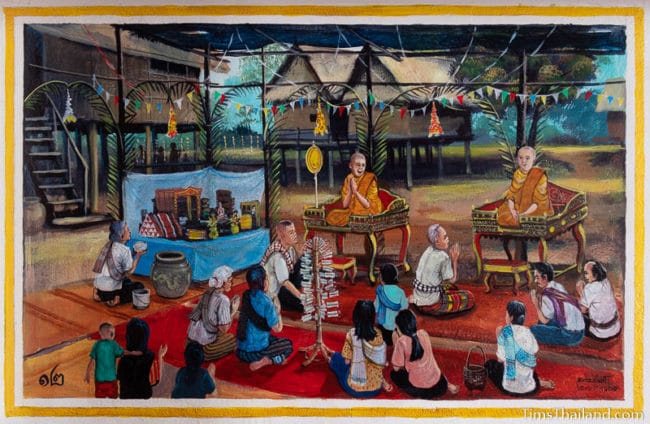 (13) After Luang Paw Koon was a monk for three years he still had not gotten the opportunity to study seriously. He considered going to Bangkok, but lacked money, so he thought about leaving the monkhood to find a new way of life. Then he met the monk Pra Anan (a relative of his brother-in-law) who suggested Luang Paw Koon join him at Wat Nong Wang in Khon Kaen. Luang Paw Koon saw this as his chance to achieve his goal and decided to follow Pra Anan's suggestion.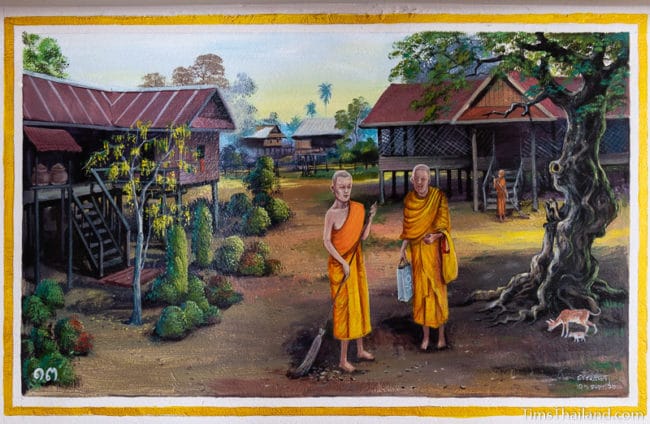 (14) At that time, in order to travel to Wat Nong Wang from Maha Sarakham, you had to first ride in a car to Amphoe Ban Phai, then catch the train to Khon Kaen city station. Trains had many passengers back then, so sometimes it was faster to climb in through a window.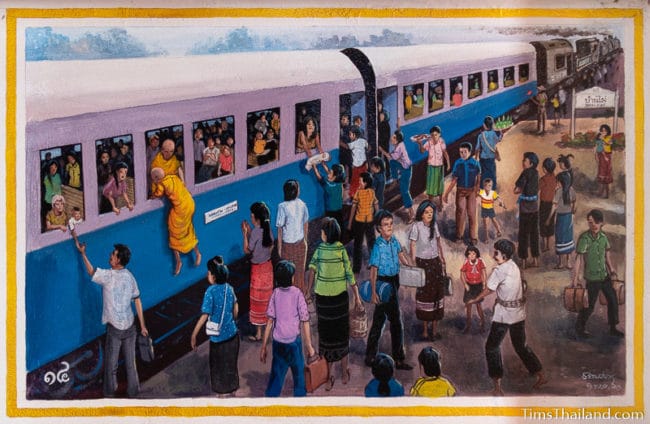 (15) When Luang Paw Koon got off the train he went to Wat Nong Wang to pay respect to the abbot, Luang Pu Pra Kru Palat Bootsaba Summano, and asked to stay in the temple in order to study. He did not get a definitive answer, so he decided to stay in the quarters of the novices (named Kuti Kok Yom) at the back of the temple. (In 1953, this is what Wat Nong Wang looked like.)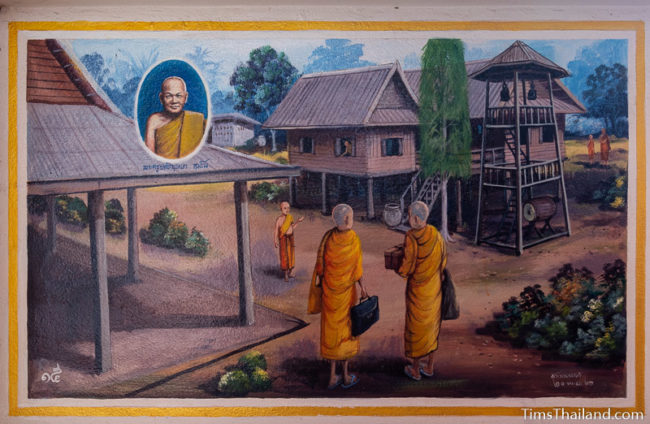 (16) One morning, after Luang Paw Koon went on his alms round, Mae Kane Jansri saw that he was staying at the temple. She went to find someone who could take care of him. Finally Po Tem, Mae Mum Tuenkaewsing, Pi Saeree, and Pi Seng Pratetthai became his attendants and took very good care of him. Luang Paw Koon loved and respected them as though they were his own family.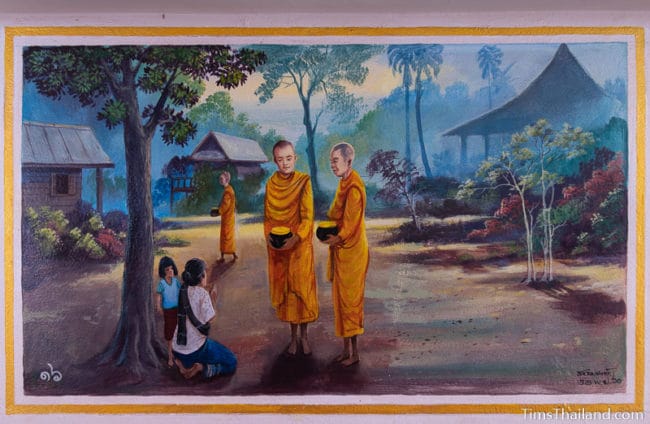 (17) Soon after, Luang Pu Bootsaba let Luang Paw Koon stay with his attendant monk in his own quarters. Luang Paw Koon was very happy. Then Pra Ajahn Puy Jarino, the abbot's assistant, assigned Luang Paw Koon to look after the monks, novices, and monk attendants, which up until then had been his own duty. Luang Paw Koon found the work very challenging, but he was patient and kept doing it so he could live and study there.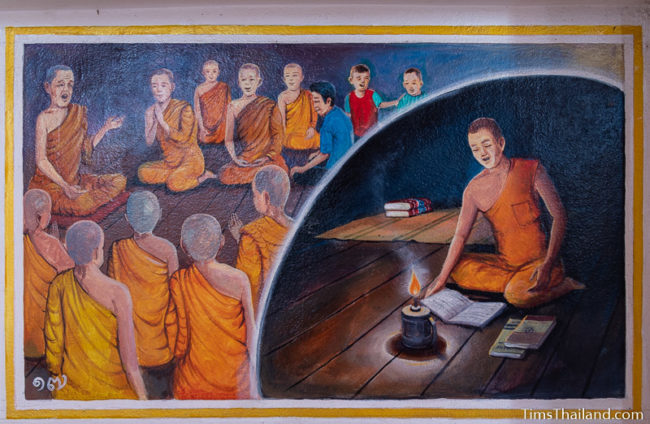 (18) In 1952, Luang Paw Koon brought his younger brother, Jan, a novice, to study with him. Po Yai Kampu and Mae Yai Wan Yomboot were his attendants. Luang Paw Koon and Jan passed their third-level dharma studies exams together in 1954. After this, Jao Khun Sarakammuni from Wat Mahachai in Maha Sarakham Province, called Luang Paw Koon and his brother to come back to help develop their home. Jan returned, but Luang Paw Koon said he would stay and finish his studies before coming back. "So I still owe him," Luang Paw Koon said with a laugh.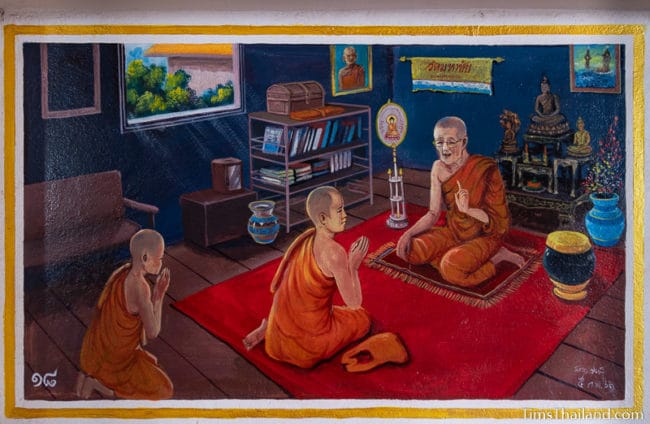 (19) In 1954, Wat Nong Wang was continuing to grow. Luang Pu Bootsaba Summano laid the auspicious first stone for building a new ubosot. The engineer was Khun Tong Suk Settaphumrin and Luang Paw Koon oversaw the project.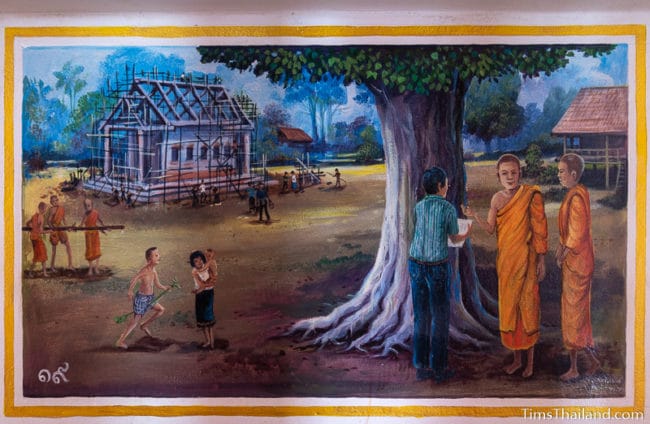 (20) Soon after construction of the ubosot began, Luang Pu Pra Kru Palat Bootsaba fell ill and was going senile. Luang Paw Koon and other monks cared for him non-stop until he died on November 28, 1955. It was a sad day for the community. From then on Luang Paw Koon managed affairs at the temple.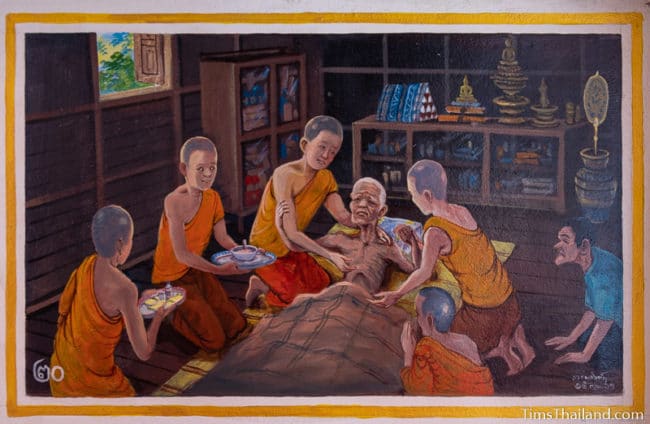 (21) After a seven-day funeral ceremony, a committee of chief monks from Amphoe Mueang Khon Kaen was summoned to meet at Wat That to choose the new abbot for Wat Nong Wang. The committee appointed Tan Jao Khun Pra Rat Saratham Munee from Wat Si Nuan in Khon Kaen as abbot and Luang Paw Koon as the assistant abbot. (The committee said Luang Paw Koon was still young and had never led monks before, so they worried there might be problems.) Finally, in 1968, Luang Paw Koon became the full abbot and preceptor.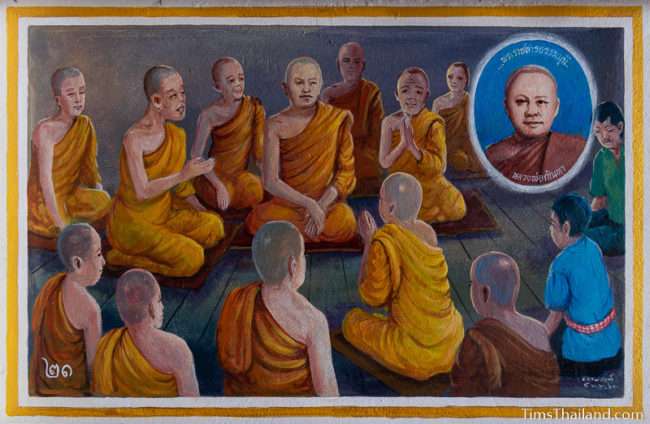 (22) Luang Paw Koon was chosen to promote Buddhism in Khon Kaen. He preached in many villages, on radio programs, and on Channel 4 TV. He taught students in schools and universities, and even some prisons. He frequently taught meditation to government officers and all kinds of other people. He got an award from Khon Kaen Province for preserving Isan culture, in particular the heet sip-song khong sip-si Isan merit-making traditions and social rules. He also got a plaque from Governor Sakda Aopong in 1993.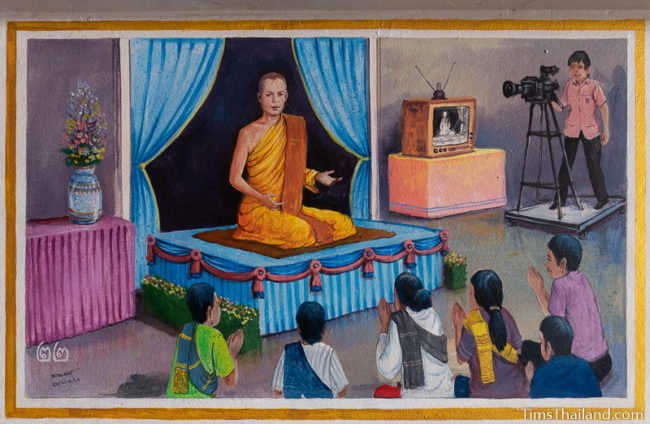 (23) Besides developing the temple, Luang Paw Koon built an elementary school, a high school, and a kindergarten because children are the future of the nation. He also built a health center for the elderly. He got a lot of help and donations for all of these activities from all kinds of people including government officials, business people, shopkeepers, and the temple community. He was very thankful to all of them.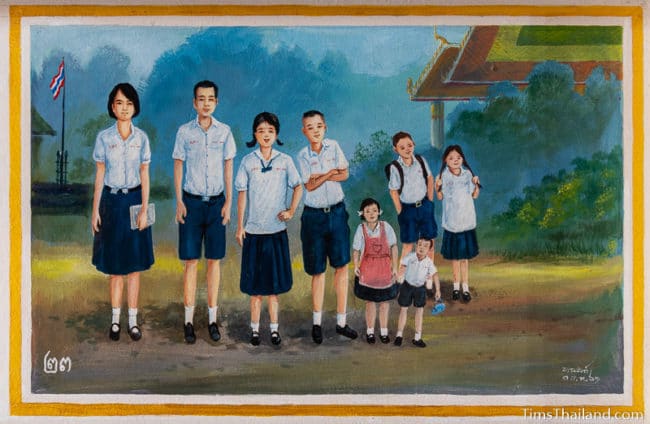 (24) As for monk activities, besides overseeing his monks and novices, he built a school for novices at Wat Nong Wang that taught Pali language and dharma along with regular school subjects that the students could choose based on their abilities and preferences. Besides that, Luang Paw Koon supported scholarships for monks and novices who were good students and passed the test to enter the program for a bachelor degree in Buddhist theology, either in Thailand or other countries.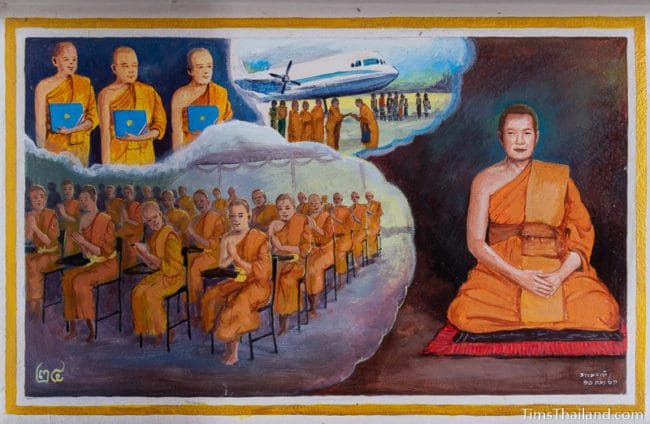 (25) Luang Paw Koon was a pra dhammaduta (overseas missionary monk) sent to teach Buddhism in developed countries so foreigners could understand and receive the Buddha's message in order to find long-term happiness. His work included founding Wat Charoen Dham in Lügde, Germany; Wat Pa Buddhaya Nandharam in Las Vegas, USA; and others. Foreign Buddhists were able to make merit at these temples.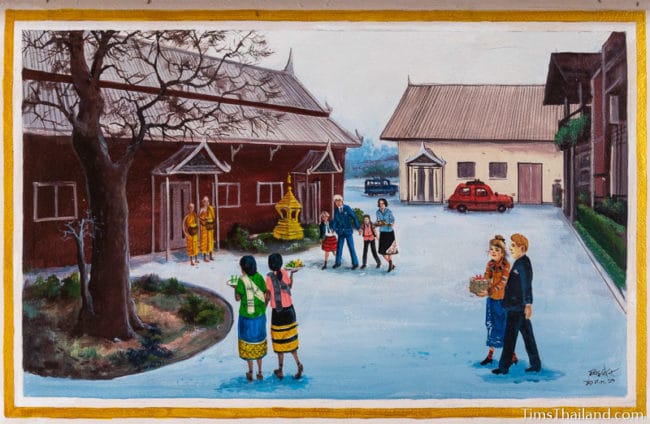 (26) One of Luang Paw Koon's most important duties was serving in the Thai Buddhist synod council to receive and share policies and knowledge that could help develop people and communities in modern times. Because of this, Wat Nong Wang received awards as an excellent example of temple development in 1981 and 1983. It was made a royal temple on August 27, 1984.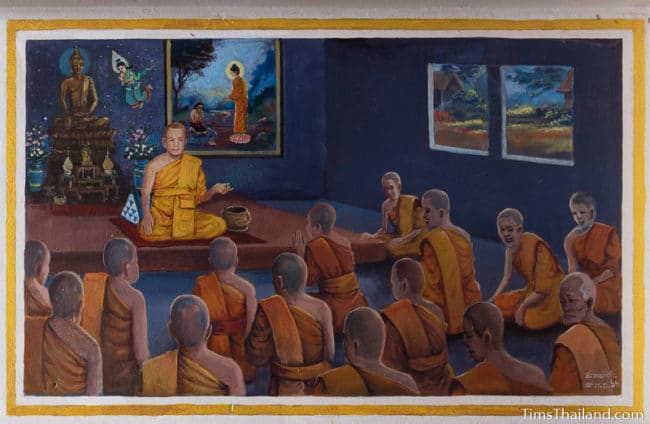 (27) During the Makha Bucha celebration in 2004, Luang Paw Koon was awarded the prestigious Golden Wheel of Law by Her Royal Highness Princess Maha Chakri Sirindhorn in Bangkok.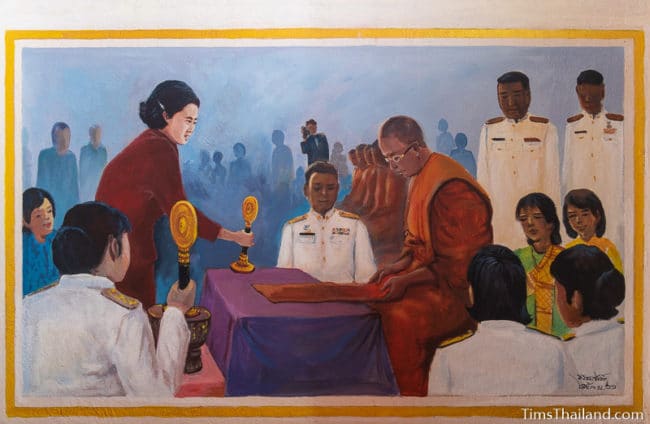 (28) In 1985, Luang Paw Koon welcomed His Royal Highness Crown Prince Maha Vajiralongkorn, who would later become King Rama 10. Luang Paw Koon offered him Wat Nong Wang's historic Praputta Patima Mahajak Kaen Nakhon Buddha image in a ceremony held near the Bodhi tree.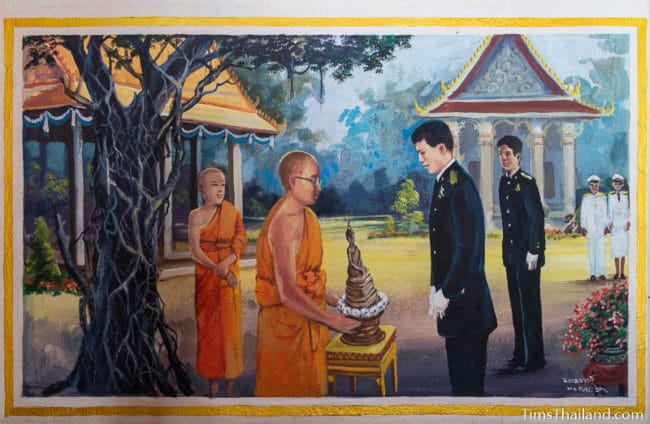 Paintings #29-35 are on the stairs up to floor 5.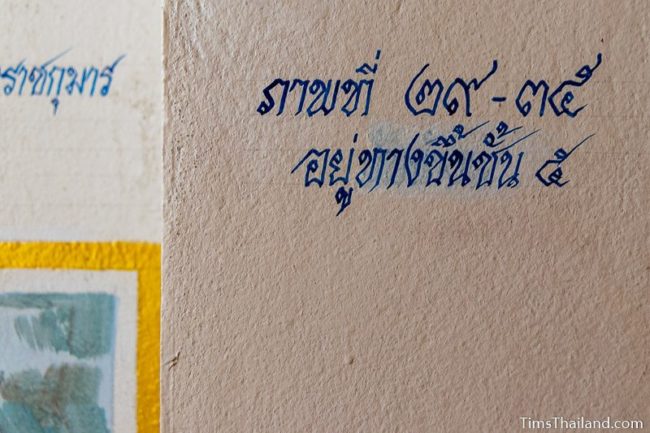 (29) The male and female lay people of this community.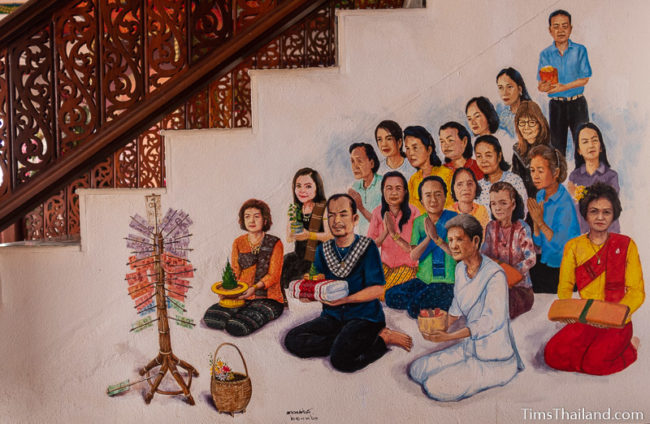 (30) The Buddhist community of Wat Nong Wang Phra Aram Luang.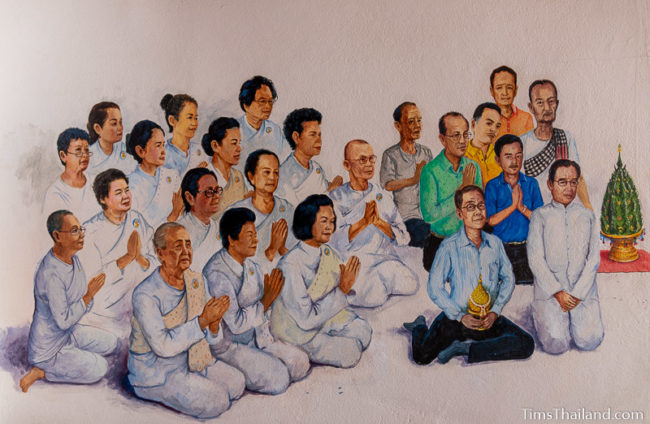 (31) The reasons for building Phra Mahathat Kaen Nakhon.
His Holiness the Supreme Patriarch of Thailand (Watsana Mahatera) from Wat Ratchabophit presented a Buddha relic to the temple in 1979.
Luang Paw Koon had wanted to build the stupa since 1954.
While in Burma in 1985, Luang Paw Koon had a dream that he would get more Buddha relics, and the premonition came true.
The Supreme Patriarch donated 18,500 baht to begin the project on May 5, 1985.
The 200th anniversary of Khon Kaen city, and the temple had enough free space to build it.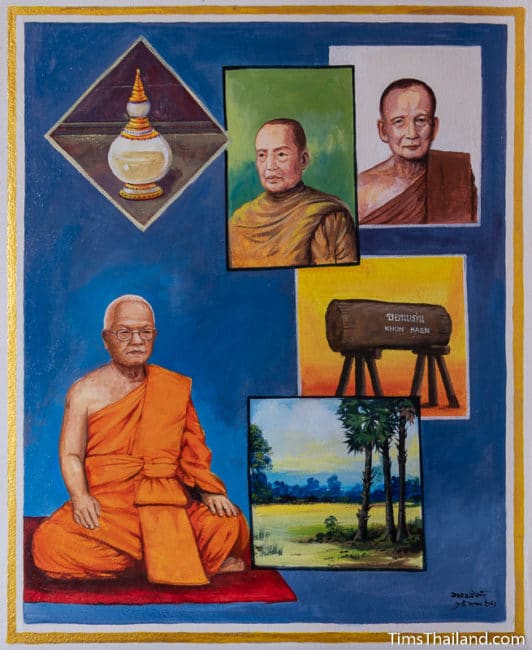 (32) In 1989 Luang Paw Koon discussed the design of the stupa with many different people and came up with his final nine-level plan, which he liked very much. So he decided to proceed with construction and had the pillar blessing ceremony on December 8-12, 1989. Khun Somchai Sunee was hired as the contractor and the budget was set at 32 million baht.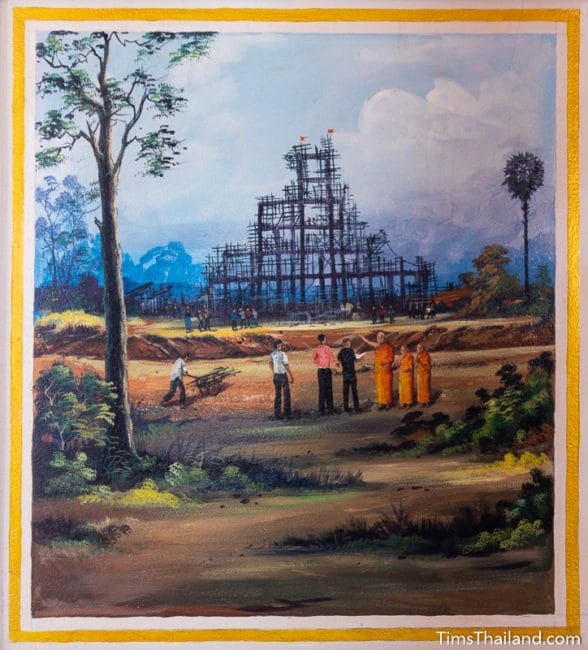 (33) By mobilizing a variety of people and believing they would be able to collect donations, construction of the stupa proceeded without problems. Luang Paw Koon was in charge of it all. Some plans were changed when it was helpful to do so, but the Isan character was always maintained. After five years the construction was 80 percent finished and Luang Paw Koon asked another person, Khun Tikae Saelek to help him oversee construction.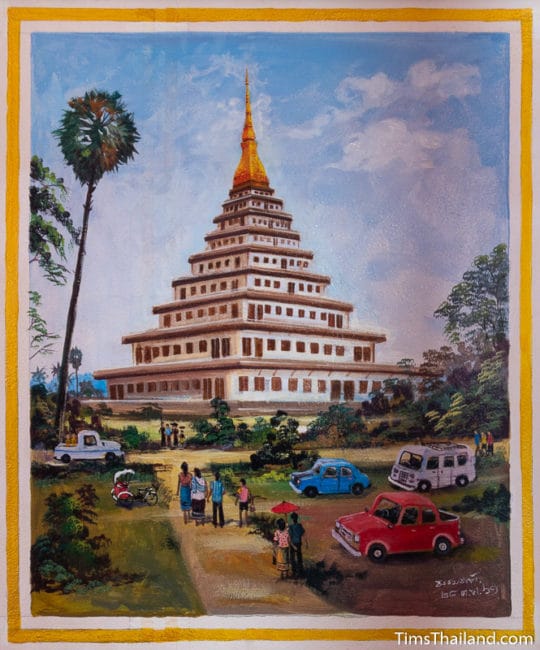 (34) Phra Mahathat Kaen Nakhon was finished on November 2, 1997 and it was worthy of the whole world seeing it. There are beautiful reliefs, sculptures, and other decoration made by Khun Po Chang Utaitong Jantakon, a renown artist of the Mekong region. There are also many paintings and carvings on the doors and window shutters. Luang Paw Koon also had artists paint murals on the walls telling the story of Khon Kaen's history and heet sip-song khong sip-si.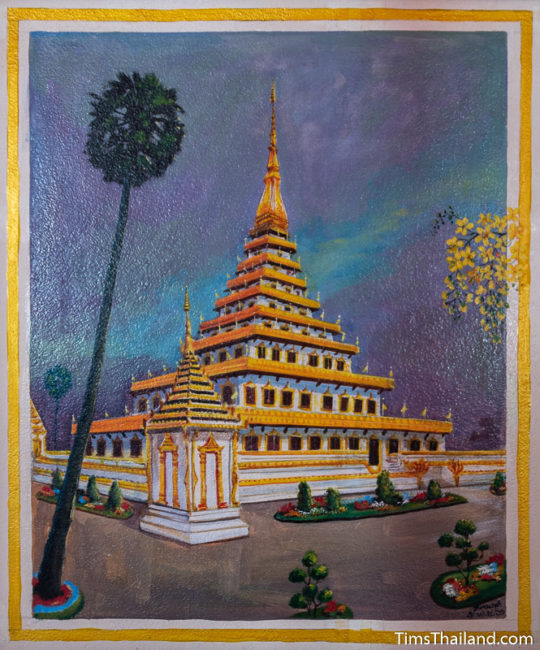 (35) After the stupa was opened to the public for worship and sightseeing, more and more curious people came and it became the icon of Khon Kaen. Many people said, "If you haven't been to Phra Mahathat Kaen Nakhon, you haven't really been to Khon Kaen," because this stupa is a place for making merit, preserving Isan culture, remembering good people, and honoring the Buddha and the king.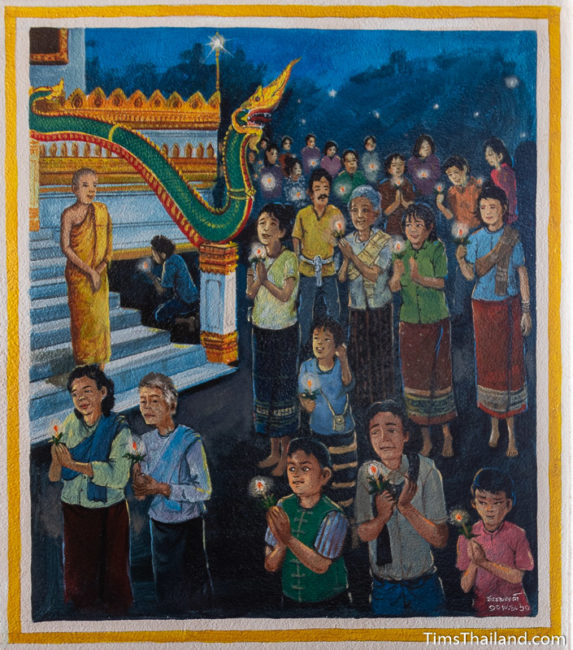 There is presently no painting to show it, but Luang Paw Koon Kantigo died on February 20, 2020.