As overtourism begins to choke the charm out of Chiang Mai, it bears reminding that one of the things making Thailand's second city such as great travel destination is the abundance of wonderful places to visit nearby. Lamphun province to the south is probably not one of the first places for a daytrip escape that comes to mind, but for cultural travelers with an adventurous spirit it's one of the best. This 140km circular route through the north of the province leaves the tourist trail far behind for a fun trip through a seldom-seen side of Thailand.
Skip the motorway and begin your trip on Route 106, the old two-lane highway between Chiang Mai and Lamphun that's known to many foreigners as Rubber Tree Road. These soaring century-old shade trees aren't rubber trees (this stems from a mis-translation of the Thai name yang-na tree), but it's just as well since Hairy-leafed Apitong Tree Road doesn't have quite the same ring to it. When these tall trees cease and are replaced by much smaller kee lek trees (the leaves are used for making kee lek curry) you've arrived in Lamphun province.
Today's capital city was once the capital of the ancient Hariphunchai Kingdom (750–1281 CE). and predates Chiang Mai by over five centuries. Still ringed by an old fortress wall and moat, it's a quiet, pleasant town of about 14,000 people. If any travelers know about Lamphun, it's almost certainly because of Wat Phra That Hariphunchai, a gorgeous temple at the heart of the ancient city that legend says was established in the 11th or 12th century on the site of the legendary Queen Chama Thewi's palace. It features a stunning 46m-tall gilded Lanna-style stupa. Also not to be missed at the temple are the slender Hariphunchai-style Chedi Suwanna, museum of Buddhist art, and gorgeous red and gold haw-dtrai manuscript library.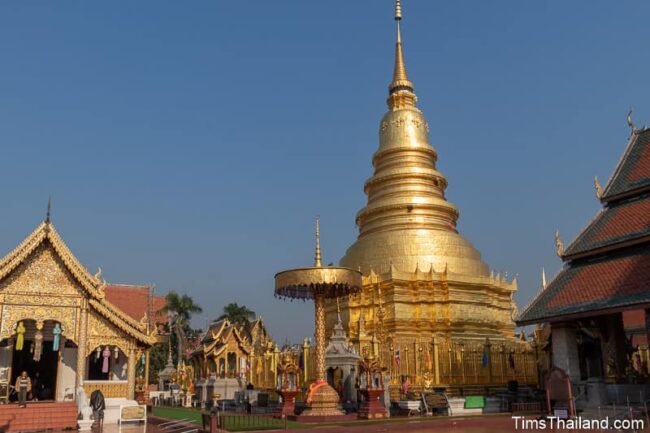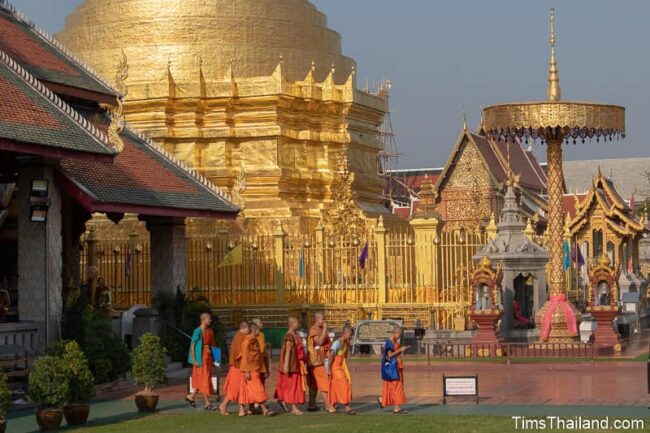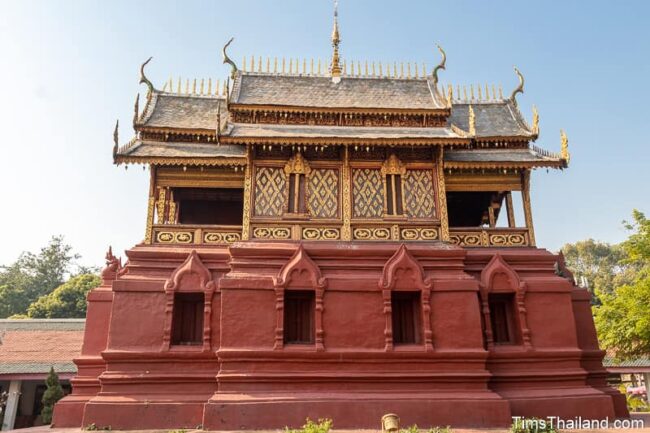 Out the temple's eastern gate is Khua Moong Tha Sing, an attractive covered bridge over the Kuang River, a tributary of the Ping River. Outside are old orange clay roof tiles and inside is a souvenir market with a mix of local handicrafts and food, including the local specialty dried longan (lam yai). This small sweet fruit is the one thing other than Wat Phra That Hariphunchai that Lamphun is famous for and the province is just about the only place in Thailand where restaurants serve guay-dtiao lam yai (noodle soup with longan).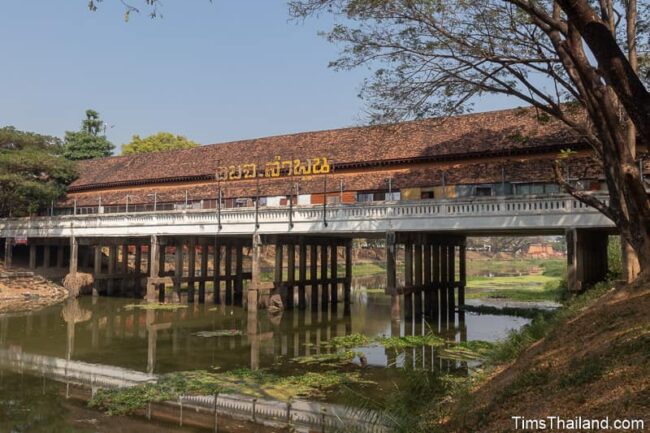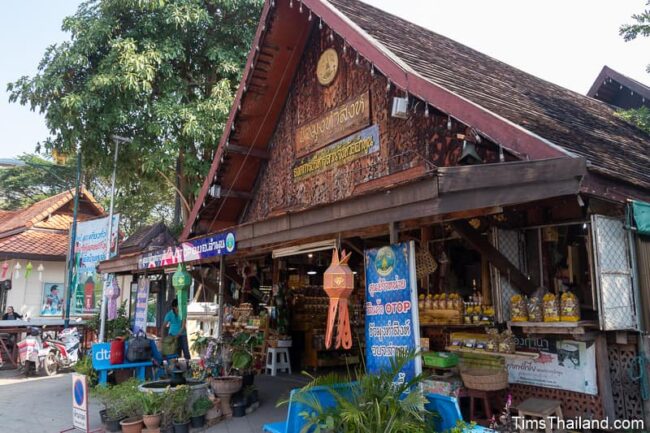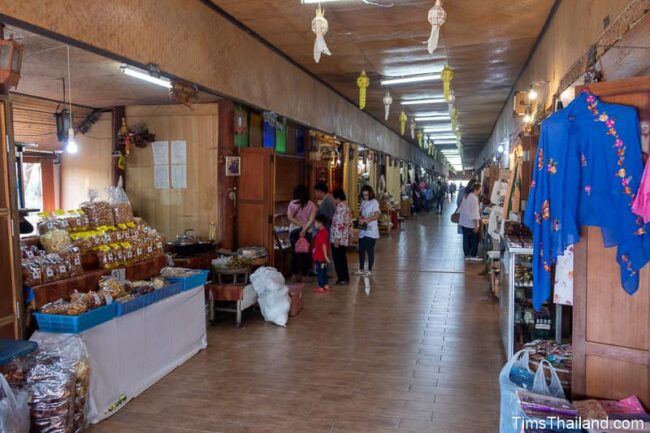 One of Thailand's most celebrated artists, Inson Wongsam, hails from Lamphun and he has turned his rural home 10km south of the city into the Dharma Park Gallery (053-521609; open 10am-4pm Sat-Sun, weekdays by appointment; free). Educated by both a degree from Silpakorn University studying under the renowned professor Silpa Bhirasri (Corrado Feroci) and an epic scooter trip from Thailand to Italy in 1963, the now eighty-plus-year-old sculptor, painter and print-maker still works every day with a team of assistants. Hundreds of his works, along with Buddhist-themed sculptures from his English wife Venecia Walky, are on display throughout the five-acre grounds.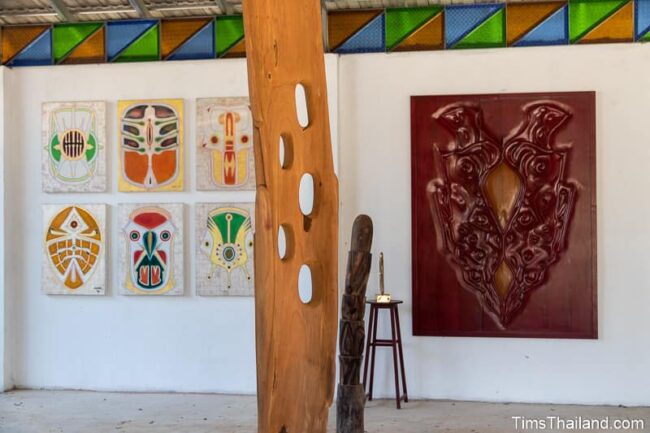 For many Lamphunians, the second holiest stupa in the province, after Wat Phra That Hariphunchai, is Phrathat Chedi Si Khruba. High on a hill at Wat Phraphutthabat Tak Pha, 9km south of Dharma Park, it honors four family members – a father and three sons – who all became revered monks. The beautiful little compound is popular with merit-makers on weekends and holidays, but otherwise is very peaceful, almost like having your own little private Doi Suthep. Most people drive up, but you can also climb the 469 steps of the steep naga-lined stairway. If the skies are clear, you can see Thailand's highest mountain, Doi Inthanon in the distance.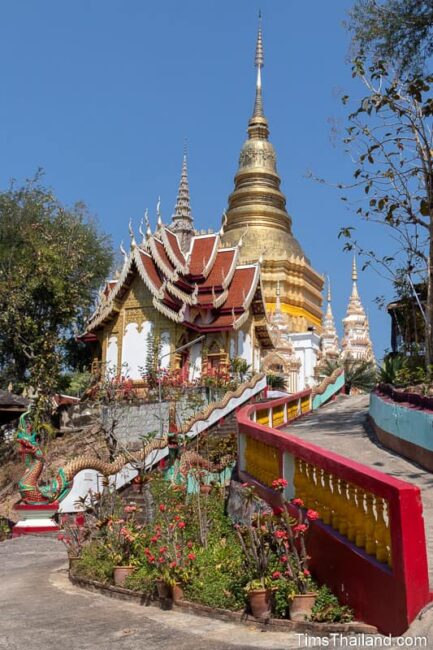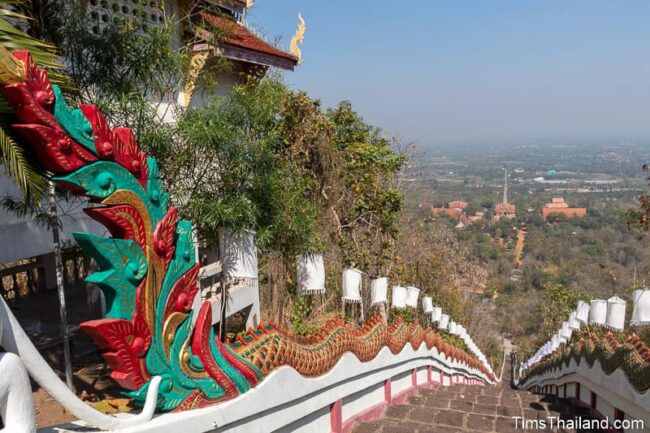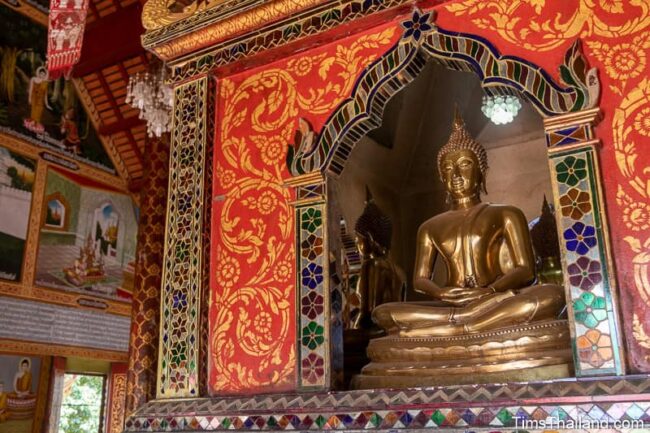 Route 1033 swings east along the Khun Tan mountains. Up in the foothills is the Karen hilltribe village of Ban Mae Khanat, which has an active weaving group. Women work daily in both silk and cotton on backstrap looms and welcome visitors. Their store and workshop is located across from the pre-school.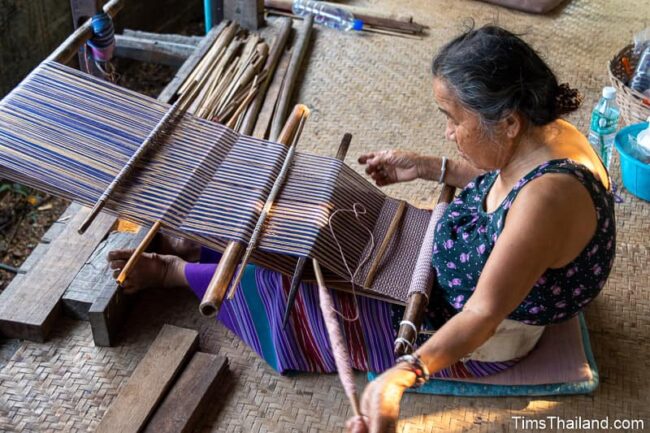 Continuing east you'll pass through the Mae Tha woodcarving region. Starting at Ban Muang Luk and continuing for several more villages, scattered woodcarving workshops sit along the road; some big, some small, all welcoming of people to stop by and watch them work. As there aren't many customers around here, a lot of the products are shipped to Chiang Mai's busy Ban Tawai handicraft market.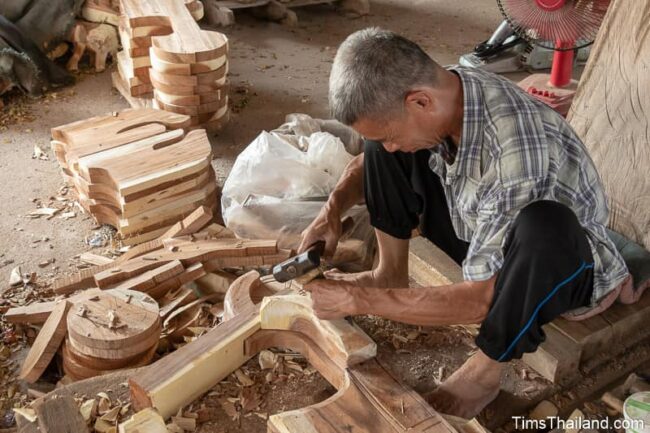 Once you hit Highway 11, stop at the roadside Doi Kaeo Market (8am-6pm). Though much of what's on sale here is the same fruits, fish, and sweets that you see in most Thai fresh markets, there are also many rustic products gathered in forests and fields like wasp larvae, algae, mushrooms, honey, frog skins, and rats. Once very common, jungle markets like these are an increasingly rare breed.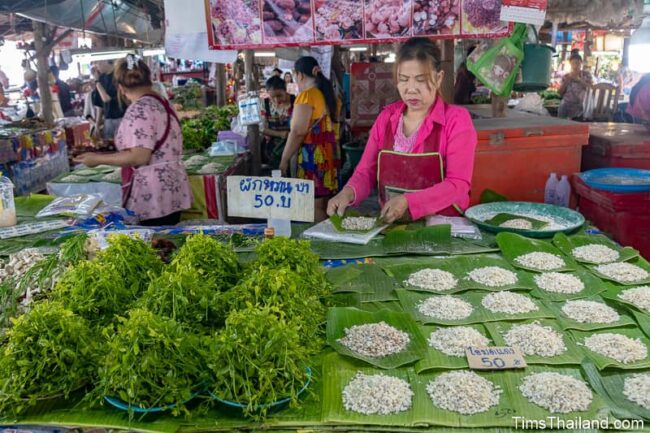 Heading north up the highway you'll meet the unmissable Kruba Sivichai Monument. This 21m-tall golden statue of Northern Thailand's most revered monk (not only for his Dharma lessons, he also led many development projects including the road up to Doi Suthep and the renovation of Wat Phra That Hariphunchai) rises high above the highway and attracts a steady stream of devotees. Up in back (you can walk or drive) are an attractive little Lanna-style wihan and big views. For many people this temple is their welcome to Lamphun, but for this daytrip it's a farewell – you'll be back in Chiang Mai city in half an hour.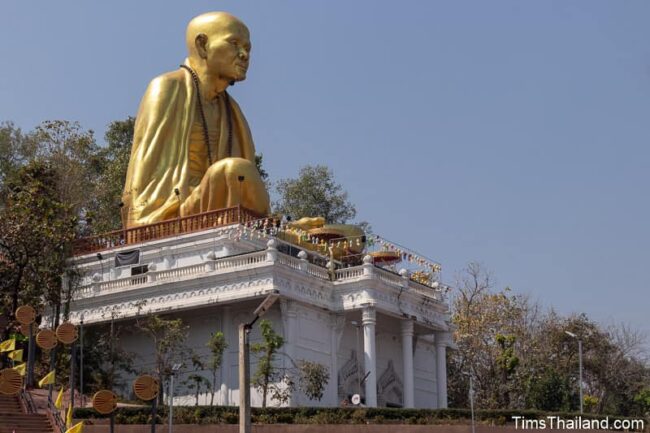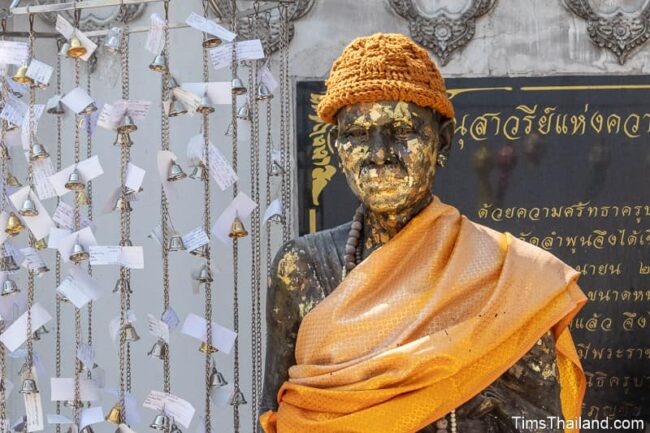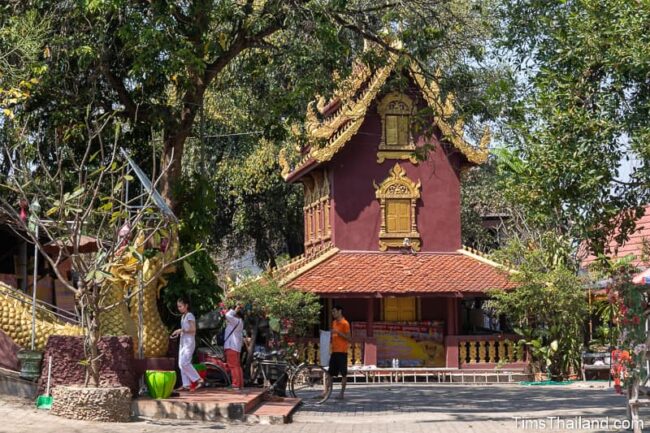 Make it Happen
Chiang Mai has major international car hire companies and many reliable local ones too like North Wheels. Be sure to get comprehensive insurance. As this is rarely travelled territory, getting a car with an English-speaking driver or going with a guide will make this trip a lot easier.
If you want to slow down for a more relaxing, less structured two-day trip, the simple little Phu Proud Resort next to a vineyard in the countryside near Ban Pa Sang, 12km southwest of Lamphun city, is perfectly positioned. For a higher standard you'll need to stay near the city where the modern, relaxing Jamadevi is one of the best places available in the province.