Ku Ban Ya Kha (กู่บ้านหญ้าคา) consists of just a few dozen laterite blocks piled into a shrine. But it's revered by many locals, who have built a roof over it and strung barbed wire to keep buffalo out. There isn't enough to go on to estimate an age other than anywhere from the 10th to 13th centuries.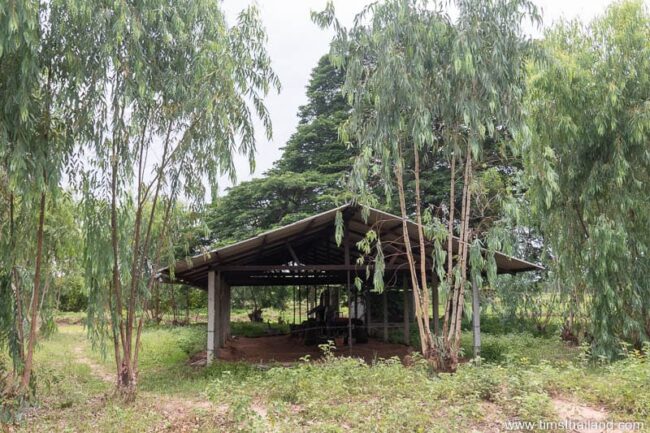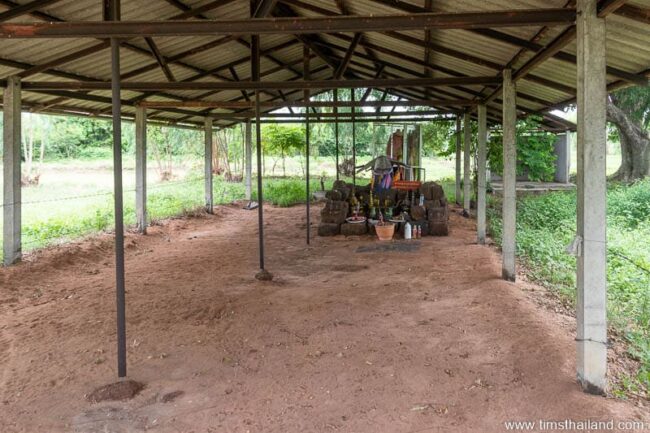 While there is no indication of who the Khmer built it for, the present shrine honors a pair of local spirits, Paw Phichai and Mae Brapaisri. In the back is a cabinet to hang dresses as offerings to the latter after wishes come true.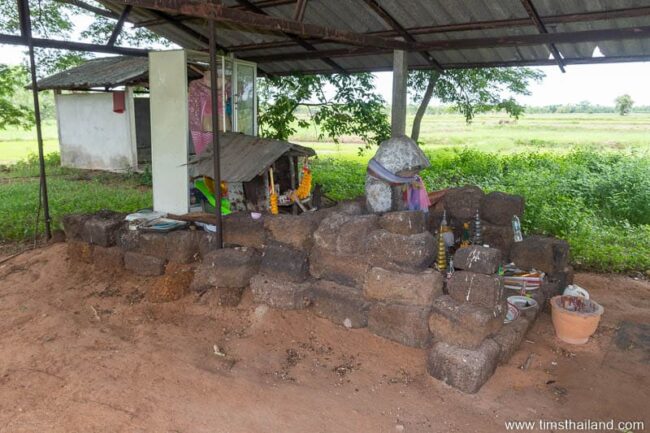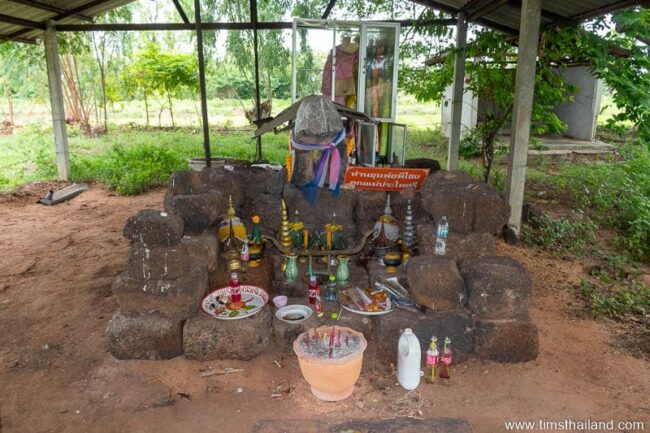 The sole piece of remaining sandstone was adopted to serve as the shrine's main icon because it looks like a linga. It's actually a broken piece of a pedestal – a hole for inserting a statue can be seen clearly at the bottom – set on its side. It was clearly quite large when intact, so it could have held two or three sculptures. It is presently perched on a much smaller laterite pedestal.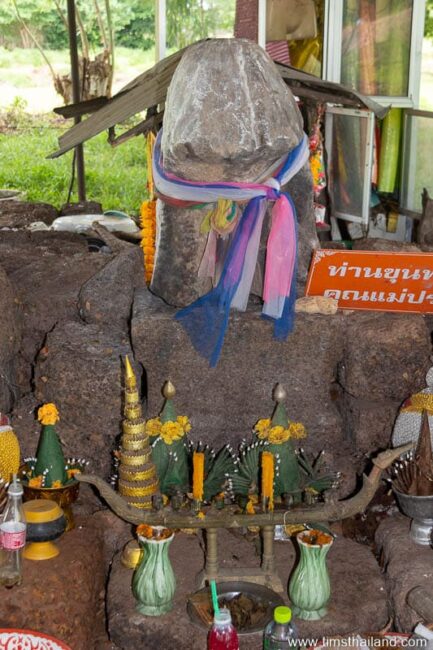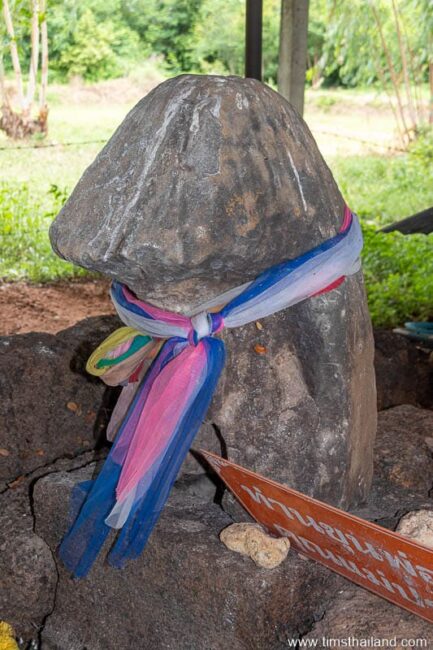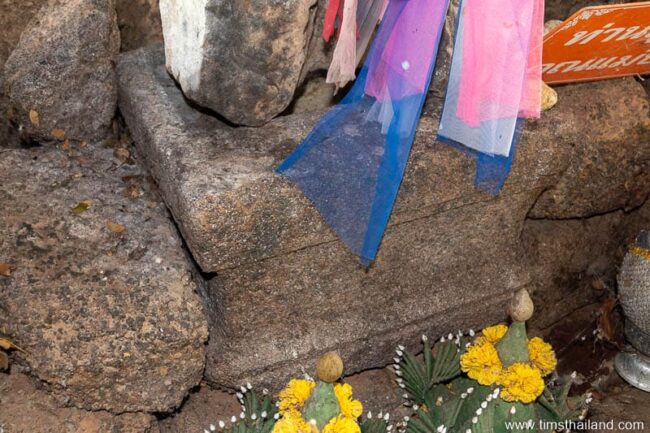 Some Khmer-era pottery was found here too, though it's not on display at the site or in the village temple. Presumably it's kept by the Fine Arts Department.
Fifty meters in front of the shrine is a roughly 90-by-175-meter baray, called "Nong Wang" by locals. At first look, it doesn't seem to be a baray because of the irregular shape, but this is because the original was expanded in recent times. The two parts – the northern one being the original – can be seen clearly in the aerial view. The site is surrounded by rice fields, which would have obliterated any evidence of a moat if there had been one.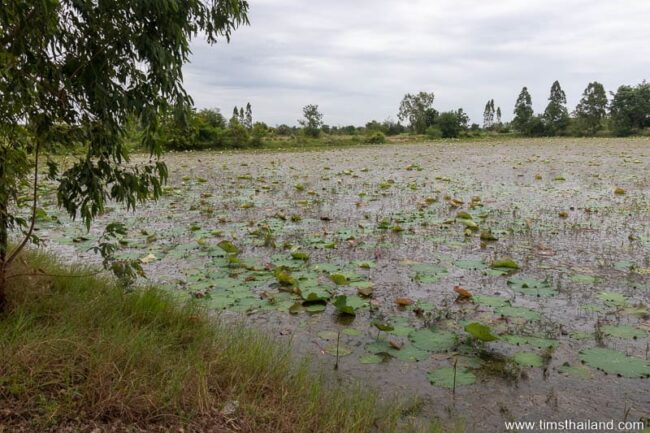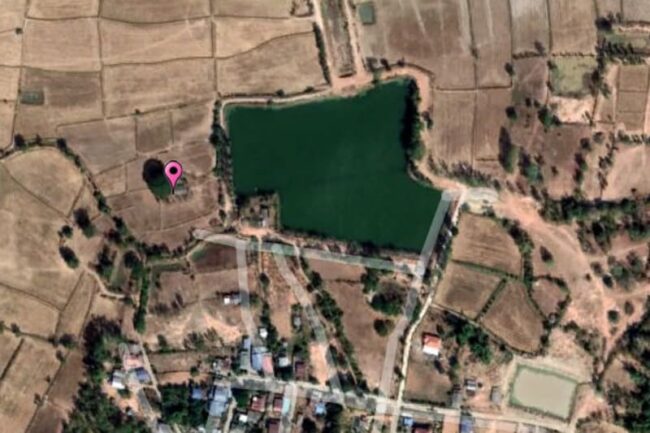 Ku Ban Ya Kha is about 200m north of the namesake village. There is no proper road directly to the site, so either walk from the village, crossing the little bridge behind the water tower, or drive around the baray, though this road has some rough spots.
Location – Ban Ya Kha, Tambon Mueang Phon, Amphoe Mueang, Khon Kaen Province
Other Names – Non Hin Dang (โนนหินตั้ง)