The translation of the story is not yet finished. I have set the post to public so that the QR code at the temple does not lead to a broken link.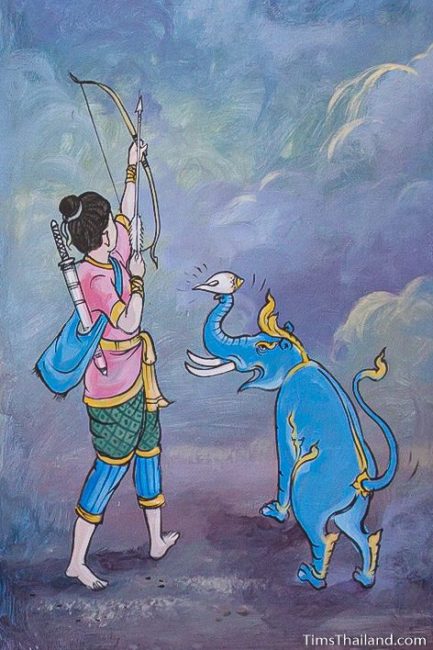 This version of the Sin Sai (สินไซ) folktale comes from the 120 paintings on the second-floor window shutters and doors of Phra Mahathat Kaen Nakhon stupa at Wat Nong Wang temple in Khon Kaen city.
In this epic tale, three heroic princes – Sin Sai is an expert fighter and always carries weapons (he's usually depicted with a bow and arrow), Siho is a kochasi (a lion-like creature with an elephant trunk and tusks), and Sang Thong has the body of a conch snail – were banished from the kingdom due to their supernatural powers, but they later receive redemption after rescuing their aunt from a demon, keeping the audience captivated with many battles and along the way.
One of the classics of Lao literature, Sang Sin Sai, as it's usually called locally, originated long ago as an oral folktale and appears to have first been written down in the 16th century. It remains popular with Lao-Isan people today, though it was once known across all of Thailand. Sin Sai does not appear in the Pali Canon (the Buddhist equivalent of the Bible), but it's widely regarded by Lao-Isan people as a genuine Jataka tale (stories of Buddha's pre-enlightenment lives) with Sin Sai himself as the Buddha-to-be.
Sin Sai murals were common in Isan and Lao temples up to a century ago, but few of those remain and Wat Nong Wang is unusual for adding them in modern times. The city of Khon Kaen has embraced Sin Sai, putting the three virtuous heroes (copying the depictions from Wat Sanuan Wari in Amphoe Ban Phai) on street lights and bus shelters.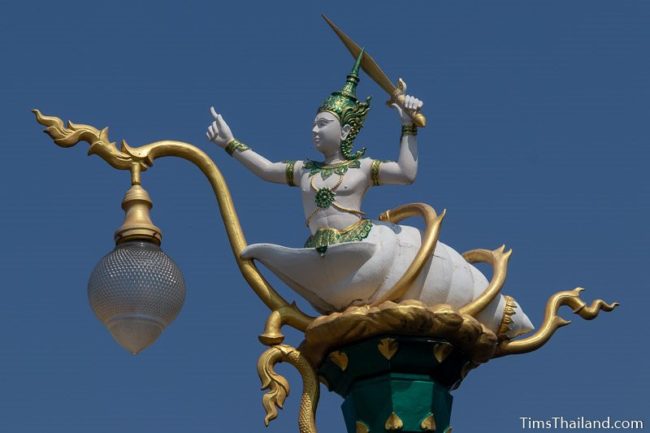 The story as told here is not a direct translation of the blue panels below the paintings because they tell the story in a poetic, piecemeal fashion that can only be understood by people who already know the full legend – many important details are just not told. We have filled in the blanks to tell the complete tale. And since the language is highly antiquated Isan (It was taken from an old palm leaf manuscript written using Thai Noi script.) that most native speakers in this day and age cannot fully understand, we need to give a huge thanks Luang Ta Grieang, a senior monk at Wat Pho Ban Nontan, for helping my wife Suttawan Bewer decipher the text in order to write a Thai version (อ่านภาษาไทยที่นี่) of the story, which I then translated to English. Without him this project would not have been possible. She also got some additional help from Dr. Songwit Pimpakun, an expert on the Sin Sai story, and from the article "Intangible Cultural Heritage to Promote Political Participation" by Dr. Kaeota Janthranusorn, Dr. Songwit Pimpakun, and Ms. Vijittra Duangsopha.

To learn much more about the Sin Sai story or buy a book telling the story in full, check out Sinxay Publishing's informative website.
Because the story is told clockwise around the stupa, starting in the southwest corner diagonally opposite the main stairs, each pair of pictures here needs to be followed right to left.
อ่านภาษาไทยที่นี่ (Click here to read a Thai version.)
— — —
"The Great Isan Folktale, Sang Sin Sai.
Repainted in 2012 by Kru Thammarong Kaewboran and team."
.
.