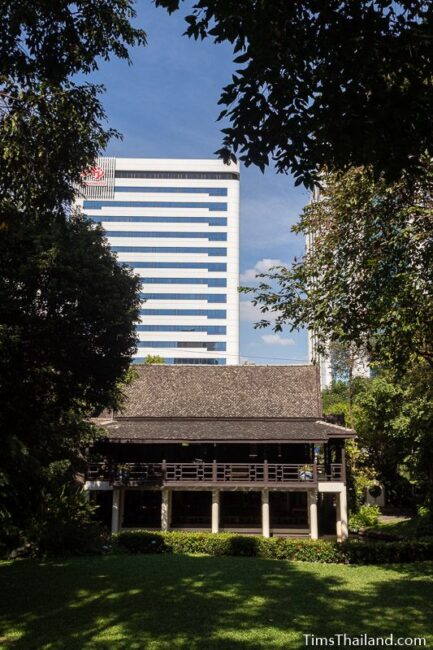 Centered on eight traditional Thai teak buildings (four old and four new) in a quiet garden, the Suan Pakkad Palace Museum (พิพิธภัณฑ์วังสวนผักกาด) is an underappreciated exhibition of Thai art, from khon masks to Ban Chiang pottery. Once the home of Prince Chumbon of Nakhon Sawan (son of King Rama 5) and his wife, and before that a vegetable farm, the "Cabbage Patch Palace" is a great place to visit, though its Khmer collection is small.
Of the roughly one dozen Khmer-era objects on display, only one is from a known temple ruin. This beautiful bronze crowned Buddha is kept in the Buddha shrine room of the main house. Other holy statues (from Sa Kaew and Prachinburi provinces), including an early 7th century (pre-Angkor) headless sandstone torso assumed to be Uma (Shiva's wife) are in and in front of the small "Khmer Room" of Thai House #1, while a few stone guardian lions are seated out in the garden.
Photography is not allowed indoors, so this photo comes from the museum's official book, The Suan Pakkad Palace Collection, and is used with permission of the museum staff.
Prasat Sa Morakot (ปราสาทสระมรกต) – Amphoe Si Mahosot, Prachinburi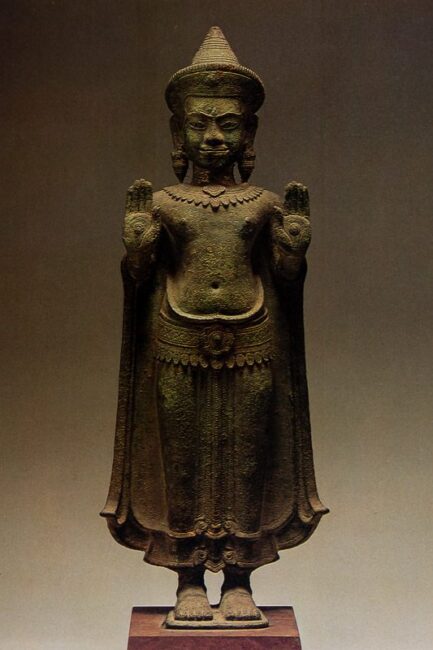 Details – 9am-4.30pm, 100/50B foreigners/Thais, 022-461775, www.suanpakkad.com
Location – 352-354 Si Ayutthaya Road, Ratchathewi , Bangkok